Between work and kids and moving to Arizona it had been a long time since Katie escaped somewhere on our own. Well, it had been a full year. Last year she took me on a birthday trip to the Dells for a full weekend of sight-seeing and adventure golf. Of course we had been worrying about Noah for much of the time, as it was the first time we had been away from him for longer than a few hours, but his grandparents took very good care of the little guy.
Now, a year later, it was my birthday again and Katie had another adventure planned. We dropped off both kids (good grief we have two kids) at the grandparents and drove north of Phoenix. Monsoons swept across US-17 and AZ-179, slowing us down to a crawl for many miles, and the sun had set by the time we reached Sedona. The hotel room was amazing and perched right on the edge Oak Creek. We didn't meander, though: we unpacked, grabbed a bite to eat from the Cowboy Club, and crashed for the night.
A bright morning sun showed off what had been hidden the previous night. The famous red rocks of Sedona lay right across Oak Creek, rising up in sudden spires and cliffs as they reached towards the edge of the Colorado Plateau. If it wasn't for the wide sprawl of houses in Sedona and the tourists gawking about this would make for a beautiful place to hike.
Katie and I headed over for a quick breakfast before doing joining the throngs of tourists wandering up and down the main street. There was enough little shopping stores to suck an entire day away. We stuck to the old part of Sedona, where a pair of shoes serve you better for getting around than a car, and did a lot of window shopping. There were a few things that we picked up for the kids, a shirt for my mom, and a some things for her parents. It was an easy and mundane way to spend the morning.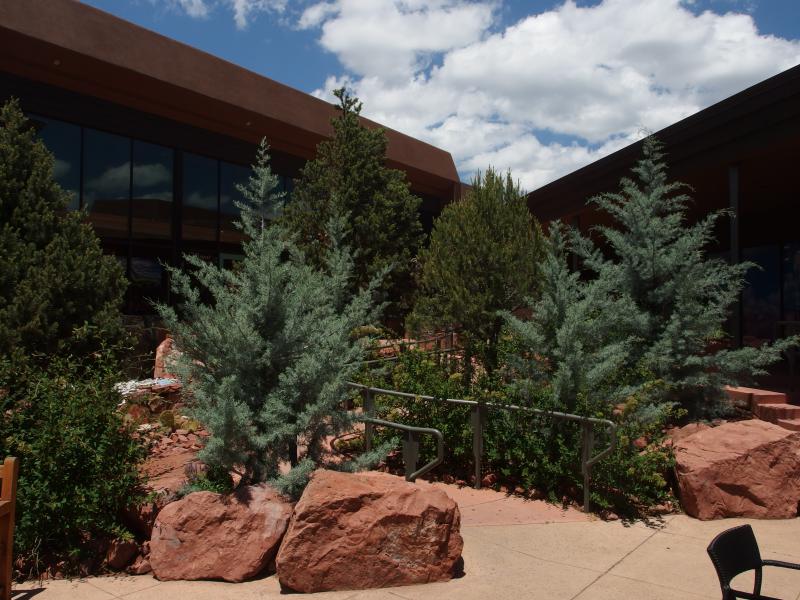 There were a few highlights along the way. We stopped at a hiking store that made REI look like a big box store, complete with an 'energy bar' where you could get protein shakes and pick up Clif bars to refuel for the next leg of your adventure. There were some fantastical art galleries, including one with surreal Suess pieces. Everything was tasteful and tried to incorporate the 'authentic' feel of the area, with reddish clay walls and trees growing within shopping courtyards.
Eventually we headed back to the hotel, napped the afternoon away, and then had some Mexican at Taos Cantina. After a few drinks we decided to hermit it up a bit and play some card games. Literally. Because Gloom is an epic card game that is best played a bit tipsy.
The final day of our vacation came quickly. We weren't upset by the waning time, as we both missed the boys (parenthood, eh?) and couldn't wait to get back. We left Sedona in the early morning and drove down to Cottonwood for a horse ride at Dead Horse State Park. Even with our lack of experience and a foreboding name like that everyone turned out okay. Horseback riding was actually a lot of fun, something that neither of us had done for fifteen years or so. Maybe when the kids get older and we eventually settle down somewhere we could look into getting a new hobby.
By noon we were done at Cottonwood and driving back to US-17. We didn't want to go straight back to Phoenix, not quite yet, so we made a quick stop at Montezuma Castle. A small collection of adobe dwellings sit under a rock ledge above Wet Beaver Creek. It was expensive to get in the park, and the walk was less than a half mile, but the sights were interesting and getting to know a bit of history on Arizona was kinda nice.
Then it was time to head back to the kids. The vacation had been nice, and it was nice to explore out of the Valley of the Sun a bit, but it was even better to see our boys again. We didn't hike while we were out, just meandered around a tourist town, yet it was fun. I only hope that Katie knows she is setting a dangerous precedent of awesome birthday trips.