Arizona is a state of transition. The Colorado Plateau intrudes from the north, an enormous plain of pines and grasslands around 7000', and reaches almost down to Globe. Where this plain ends there is a mix of steep rims and canyons that eventually drop into the hot, southern deserts closer to 1500'. Sycamore Canyon is one of these canyons, emptying into the Verde River, which flows right into Phoenix. Most of this canyon is located within a wilderness and is very difficult to reach, though there is a popular trail loop located at the head that I was planning to hike today.
As cool as Sycamore Canyon and this loop was, it was not the thing that hauled me into the northern stretches of Arizona. No, Chris and Kirsty and I had made the three-plus hour drive beyond Flagstaff to camp with a bunch of strangers on the internet. Ever since we moved to Arizona I've been depending on a website [hikearizona.com] to plan my adventures. My Michigan hiking destinations had been based on personal knowledge and a whole range of sources, and when we moved I was basically starting from zero. This website has GPS tracks, photos, triplogs, descriptions, and an active community of outdoors people that made it way too easy to venture into an otherwise uninviting environment. There are a few gatherings every year and we finally decided to meet some of these strangers in person.
We pulled into camp on Friday afternoon and had an enjoyable evening of burgers, campfire, and lots and lots of trail talk. First time in a while that I was up past midnight chatting with people. We were some of the first up in the morning, impatient to get to a trail, and when we did leave camp (after sunrise!) most people were still sleeping. Chris and Kirsty were heading to the Grand Canyon and I was more interested in doing that Sycamore Rim Loop, so they dropped me off at one of the trailheads with a few liters of water and I headed out alone.
Immediately I was knocked back to Midwest hiking with three jarring features. The air was thick and humid this morning, knocking my breath away as I started down the trail. A thick dew lay over all the vegetation and quickly soaked into my desert boots. And then there were mosquitoes, a few at first in the chill morning air, though they would continue to grow in number throughout the day. I almost preferred the thin, dry, bug-less desert air. Almost.
From the trailhead the path dropped quickly before crossing over to the loop proper. I took a quick detour on some use trails to a spot called Paradise Forks, which is apparently a well-known climbing area. Way at the bottom there is a small, muddy waterfall, though there was so little water dribbling over it this morning that I didn't waste any time trying to get a good angle on it. Instead I pushed on to a vista of the canyon and then circled back to the loop, finally starting the core of the hike at the late hour of 8:30 AM.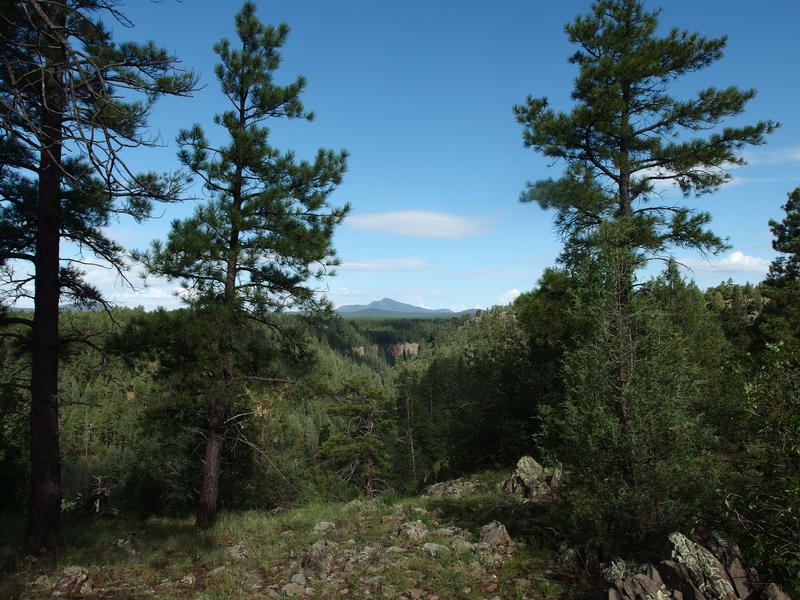 There was a mean 150' climb on a grassy slope that, combined with the humidity, felt way harder than it should. Or maybe I was just being a wimp this morning. I passed a couple on this section of the trail, an older couple who'd be the last people I would see for a few hours, and was treated to a view of Bill Williams Mountain in the west from the top. Idly I wondered if I'd get to see the San Francisco Peaks today - would have loved to climb Mt Humphrey's today. Too stormy this time of year, probably.
When I got my next view down into Sycamore Canyon it was much, much lower than before. This thing drops fast. It must be a real bear to hike up the length of it, likely with frequent waterfalls and huge boulders to contend with. Perhaps one day, when I'm done punishing myself with Mazatzal hikes, I'll spend some more time in this wilderness and play around down there. The tall pines would make better campsites with the family than cacti, that's for sure.
Soon the trail curved past Double Tanks and worked up a northern tributary of the canyon. Even though I was on the Sycamore Rim Loop, less than five miles of it could be considered on the rim of the canyon. It's a very scenic stretch, yet as soon as the route hits a decent obstacle (the very deep northern tributary) it curves away and bails. As the tributary shallowed and eventually became little more than a grassy drainage I stopped for second-breakfast, a granola bar and some water.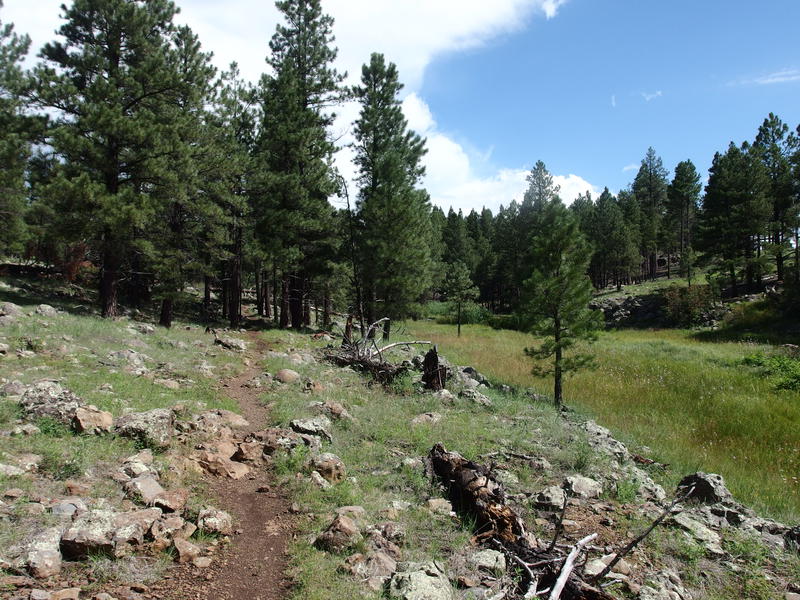 Further upstream the drainage deepened, and when the trail crossed below Dow Spring there was even some flooded stepping stones to splash through. I could have easily filtered for water but didn't want to waste the time, not on such a short and relatively cool day. Near the spring was a historic site, some old log cabin foundation and the start of the 'Overland Trail', plus a decent view out over Garland Prairie to the north. I poked around briefly and was surprised to see just how indistinct the Overland Trail was. It's marked on maps and seems to make a bisecting shortcut of the loop I was on, yet I couldn't make out a footpath or anything to mark the passage.
My trail continued along the drainage, which seemed to push on with the same mixture of sitting water and grassy sections deep into this otherwise flatland. It was surrounded by tall pines, by grassy plains, and by solid rock. When it finally began to blend in with the grasslands and the trail crossed over it the second time the ground was still soggy, proving that it was still draining so many miles above the canyon. The bedrock must be either saturated or impenetrable to let this much water just sit here.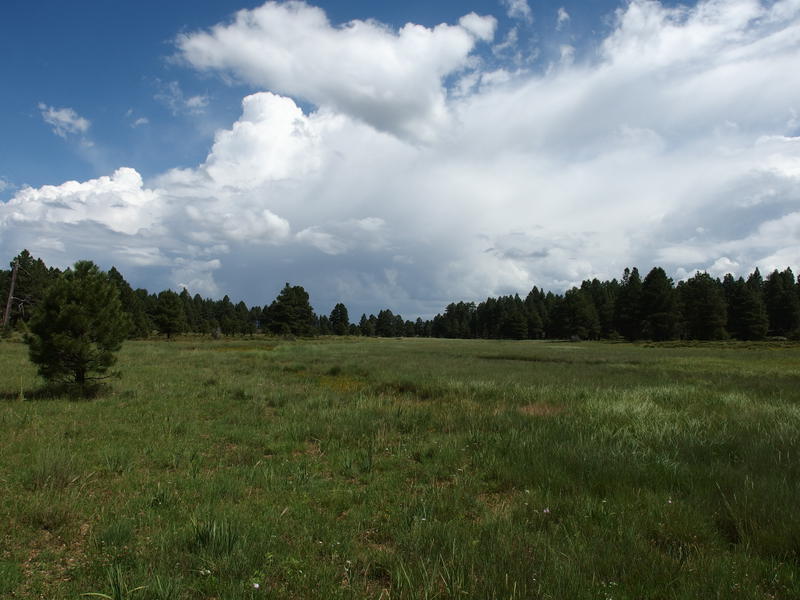 Seven miles into the hike and the only tough section showed up: a brief climb up KA Hill. This is a mild 500' climb that would normally be a nonevent for me, though today it felt like a death march. I'll blame the humidity again. I didn't let myself rest even as a huffed and puffed up the few switchbacks, stopping only after cresting the top and getting a good view of Mt Humphrey. Those storms shrouding the peak looked intense. Chris and Kirsty were on the other side of that, somewhere on the South Kaibab Trail, and I wondered if the were looking at the same thunderclouds.
Along the descent I bumped into two fellow campers who were doing this loop in reverse. I didn't know anyone else would be out here and felt kinda bad about doing this alone on what should be a social weekend, even briefly thinking about turning about and backtracking with them. Instead I dropped a few pieces of info about the trail and wished them well, figuring we'd have plenty of time to catch up at camp. Turns out we'd have very different afternoons - more on that later.
The next few miles were disappointing. First there was some logging land to walk through, including some sections that were all ripped up and hard to track a path through. After that was a scenic pool surrounded by tiny flowers, watered by a tiny waterfall dripping over rock, and then Pomeroy Tanks. I had high hopes for the tanks, having heard that the towering rock walls combined with year-round water source made for a unique environment. It was fine, I guess. The walls weren't more than ten feet high and it didn't feel that different than the other drainages I had already seen. I bumbled through Pomeroy Tanks feeling underwhelmed and a bit fatigued.
I finished the twelve-mile loop and took a lunch break at the same trailhead I started at some four hours before. I wasn't feeling great, a bit burned out from humidity or lack of sleep or something, and even had some warning cramps nipping at the edges of my muscles. Plus I had a new problem to work with. I had to make it back to camp without a vehicle. Chris and Kirsty likely wouldn't be back this way for a few hours and I had no good way of getting a hold of them. As I ate my lunch and swatted away the mosquitoes I plotted a route on my map, sketching a rough line from here through Sunflower Flat and along an old road, and then set to it. Four more miles and I could relax in my hammock.
Getting to Sunflower Flat was a bit of a hassle, involving some road walking along a busy gravel road, a quick climb up a crumbling hillside, and then a general bushwhack over a series of barbed fences. When I did make it to the flat I slunk down next to an old log and tried to calm down my legs. My right calf had cramped hard while hopping over one of the fences, tightening in an unnatural twisted position that left me hobbling in pain for a hundred yards or more. This sucked. At least the flat was pretty.
When the distant thunder became less distant I forced myself up and decided to push the rest of the way. I did not do a good job securing my campsite this morning and did not want to stuck out here walking through a thunderstorm while my gear got soaked through. An old road showed up and helped ease the 300' climb through the thick forest, and then a quick drop, a road crossing, and a short bushwhack and I was back before I really noticed it. I had enough time to secure my site, change into some less-sweaty clothes, and catch up with another camper before the sky opened up.
My hammock and tarp held up for the first thirty minutes of torrential downpour, though a surprise sideways attack soaked through my underquilt in seconds. When the weather let up I had a quick conversation with Chris and Kirsty, who had pulled in with the first raindrops, and we decided to retreat back to Phoenix that night. Last night had been fun, we all got our hikes in today, and the thought of being in warm beds won out over being eaten by more mosquitoes in the post-storm evening.