The cliffs along the southeast wall of Mulligan Plains is one of the most rugged and tempting hikes I've found since I first viewed them in late 2008. Towering hundreds of feet above Mulligan Creek, often with sheer rock faces that are rare in the Upper Peninsula, they promise of awesome views of the plains below and hold back wild, unvisited highlands spotted with swamps and lakes. This area has multiple impressive cliffs near Stager Lake and Red Road, but these cliffs are the tallest and most difficult to visit.
I had spent the night next to the Rocking Chair Lakes. My journey up here had not been easy, with several clumsy stumbles into swollen, thigh-deep puddles in the twilight. Waking slowly with the wet, foggy morning I ventured south along the ridge line. It was slightly tempting to climb one of the two outcroppings on the east side of both Rocking Chair Lakes, both of which offer a commanding view of the plains below, but my hike today was a long one. I was planning on backtracking my winter visit to this cliffs and follow the cliffs from Rocking Chair Lakes to near Red Road, a challenging hike to say the least.
Barring the outcroppings to the east and a clear drop by the northern outlet creek there are few good views from this area. I got a few obstructed views of the foggy valley below and continued south, climbing up the small hill by the southern Rocking Chair Lake and back down into one of the many saddles. The next ridge seemed much more promising being both taller and steeper. My northern approach was cluttered with undergrowth and crumbling rock underfoot, but the tough hiking proved well worth it.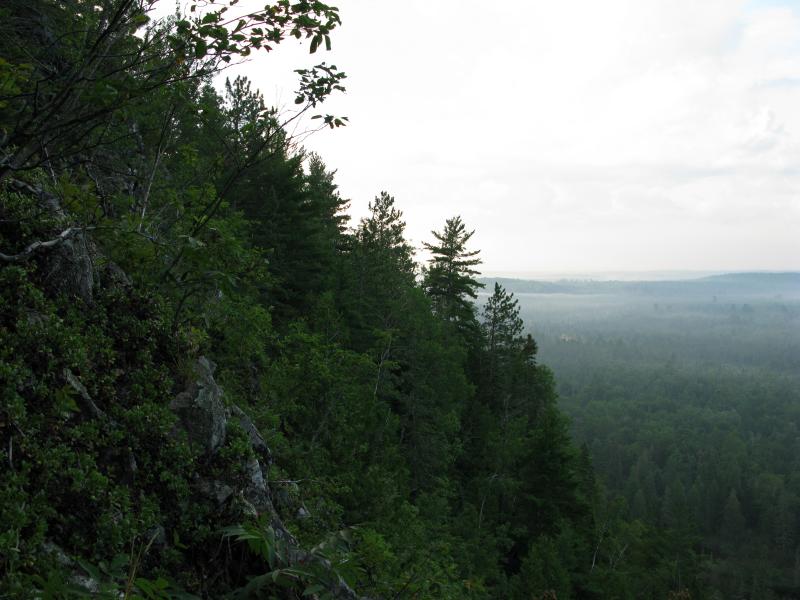 Carefully inching my way along the breakline I enjoyed foggy views of the plains below. The sun had not yet risen high enough to break over into the valley below. Even though I had been awake for over an hour already I felt like I was still watching the world wake up around me. An eagle slowly flew a hundred feet below me over the tree tops while a young deer drank from Mulligan Creek, walking upstream and enjoying the cold water. To the south Mulligan Plains opened up to the Dead River's wide berth; west showed Silver Lake Basin and the long, wooded ridge that holds it back; and stretching north the wooded ridge had a few breaks for Mulligan Creek and some outcroppings by Stager Lake. The view was inspiring and humbling and I took my time inching along this ridge to drink it all in.
There was one more surprise for me on this ridge. When I reached the south end and was greeted by a view of the bumpy hills that I would be tackling next I also bumped into a spur. Thanks to Mulligan Creek most of this line of cliffs were lined up facing west; the creek served as a scour to wash away the debris that would otherwise stack up and round out the drop. This spur decided to be different. Rock had fallen away from a point in the rock that stuck out, not more than a few feet across, for over twenty feet. Excited I crept out on the spur, overly aware of the exagerrated drops on three sides, and enjoyed my breakfast in the waking sun.
From here the cliffs turned into more rolling hills with rocky views on their western faces. I climbed down through the woods, veering eastwards to avoid losing too much elevation, and climbed up the next ridge. This hill had good views southwards but was blocked by tall trees to the north. The next hill, which was quite a bit further and higher, had better views north and I could easily make out some of the sheer rock faces I had been on top of.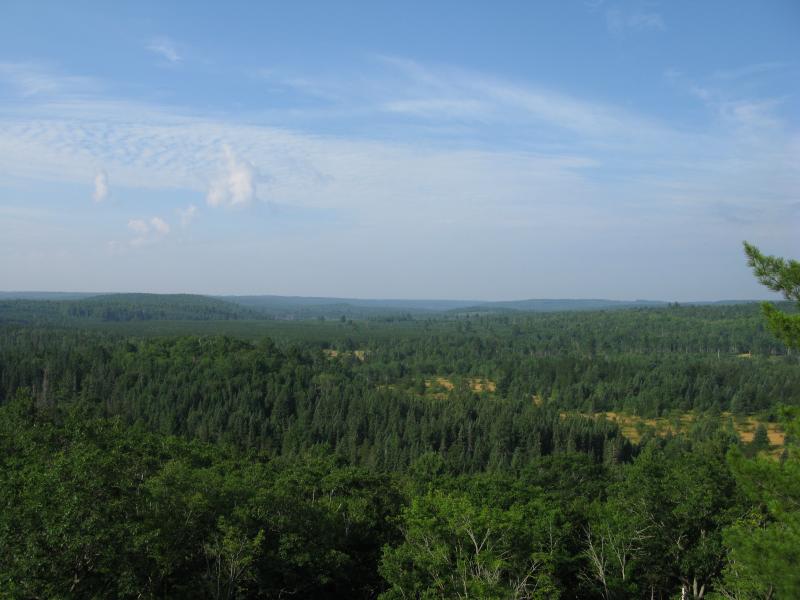 The constant up and downs here was quickly tiring me out. There were two more before I made it all the way to Red Road, but I figured I could climb one of these I'd be in pretty good shape. Instead of just heading south I made a large swing around the highlands to the east, losing little elevation but increasing the distance threefold. I bumped into a few cool spots further east, including a hunting trail and some of solid old growth, and made it to my last view of the plains with enough energy to make it back to my camp.
Following the familiar logging road down to Silver Lake Road took me right back to County Road AKC, an overgrown two-track that follows the east side of Mulligan Plains up to Rocking Chair Lakes. I wouldn't ever try to drive this in my car with deep ruts and creeks flowing right over the road. The two-track did give me good views of the cliffs above. Of course they did not look as tall looking up at them as they did from the top, but that was to be expected. I was happy that I had finally returned to the Cliffs of Mulligan and (hopefully) would not turn around and accidentally delete all of my photos.