Flowing south from the iron mining highlands of Champion and Negaunee, the Escanaba River spends most of its length trickling through swamps before emptying into Lake Michigan near Escanaba. It has three main branches, the middle and east ones meeting up at Gwinn and the west some ten miles downstream. Both the middle and east branches contain tributaries above 1400' which gives a drop to Lake Superior of over 700' - a drop that points to waterfalls.
And waterfalls there are. The east branch system includes Schweitzer and Tiger Falls along Schweitzer Creek as well as the easily accessible Warner Falls in Palmer. The middle branch, with an impressive remote start next to the Michigamme Reservoir, holds even more drops. But the middle branch is where I began to run into access issues some years back.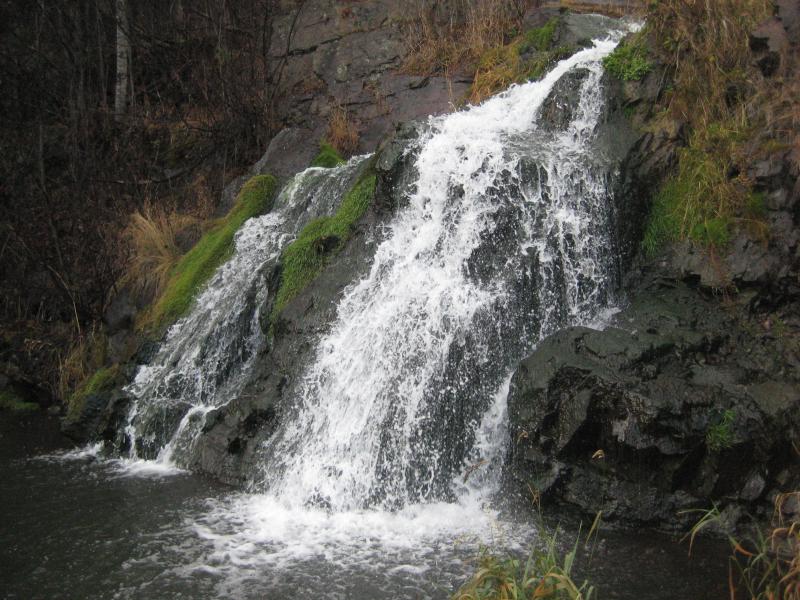 There is a prime stretch of waterfalls between Country Road 581 and M-35. Here the Middle Branch Escanaba River falls 300' over some 20 miles. This may not seem like much of a drop, something that could be largely attributed to rapids on other watercourses, yet along this stretch it is one waterfall after another separated by flatwater sections. Thanks to the wide river and scrub surrounding it you can even make out each fall on Google Maps.
My first successful venture out to this stretch was in the early spring of 2009. Emboldened by time constraints I wandered up a snow-locked Country Road PPE past a marked gate to view White City Falls. A nearby cabin marked this as obvious private property. I scurried out before continuing onto Second City.
Since then I've been back to the area a few times, testing different access options. The first problem is the huge tailing pond that sits on the north bank of the river here, the one with an unnatural aquamarine tint. Roads that run along that pond are gated and well-traveled by Tilden guards. Any non-mine roads are private drives for the handful of cabins along the river.
A southern approach seemed more reasonable. There would be a lot more swamp to push through, thick brush growing tight against the river's edge, but there are fewer cabins. I tried this approach twice in the last few years. I ran into a lot of private land down there, especially along the few tracks down there, and the roads were rough on my non-terrain vehicle. Driving down Voelker Lake Road was a jarring experience; running the whole length along Hemming Lake Road was a nightmare.
Between trying the north and south approaches I've tried to reach these waterfalls a half-dozen times. I've made it to White City Falls, Farmstead Falls, and Cataract Dam (the dam and falls are on the other side of M-35 but I'll count it anyways). There are so many more here, though: Second City, Half Dome, Jumblewood, Island, and others with more loose kayaking monikers. A full list of the features can be found on the whitewater page for this run.
Which brings up an obvious access option: the river. With some whitewater knowledge one could just kayak down the Escanaba to view the falls. There may be a few that would require a portage, especially for inexperienced visitors, and as long as you keep close to the river there shouldn't be any issues with trespassing. I just never got around to trying that one. It was on my list, as this rich stretch of falls has been a nagging thorn in my side for years now, never got around to it.
One reason why I kept pushing off a more robust exploration is the nearby mine. Many of the creeks flowing into the Escanaba drain the lands around Tilden Mine's explorations and have a robust smell. Schweitzer and Warner are two of the worst smelling creeks I've been to in the Upper Peninsula, but Ely is pretty bad too. Plus the middle branch runs right next to one of the main tailing ponds. The water is dark, tainted, and smells like sulfur. It's hard to get excited about skirting private property and hacking through brush just to break out onto a polluted river.