Every time a winter storm rolls through the mountains outside of Phoenix, I think about taking the kids out to experience what winter is really like. They loved the few snowy adventures we've had, trudging through the white stuff and making angels and stuffing frozen handfuls of water into their mouths, even if it means putting on every last piece of warm clothing they own. So when the temperature dropped and radar colored we piled into the Jeep and headed east to Apache Leap in search of snow.
We parked near Magma Mine on top of a cliff band and stepped out into the frosty cold. The dirt parking lot had plenty of frozen water puddles to keep them entertained while I checked my gear. Apache Leap was an off-trail hike, less than four miles in total, and with the rugged terrain and distraction of ice and snow I planned on it being an all-day adventure. Once we were set I led the way up to the road and to a nearby drainage.
Immediately we were faced with a problem. This area was not high enough to get only snow yesterday. Instead, most of the water fell as rain and froze overnight, which meant that most of the ground was covered by sheets of ice. The drainage that could take us up to the viewpoint was running with water and surrounded by slick slopes that looked more like a comic trap that actual route. I took the lead, ferrying the kids individually across the worst sections, moving them from one dry patch of rock to the next. It was slow going until we crested a ridge and had more dry rock to wander along.
My hope had been to stick to the drainage, to walk next to the water most of the way, but the ice-covered banks made that impossible. Now we were high above the flowing creek and, while we had to navigate boulders and outcroppings, the kids were able to move without assistance. They quickly found large, frozen pools of waters in the rock and attacked them with vigor. I kept a watchful eye on them and let them pour their little hearts into destroying the icy covers.
Eventually I roused the troops towards our goal and we pushed on. We crept along the icy rock croppings, jumped down into narrow brush-filled channels, and pushed through catclaw and manzanita. We moved slow, mostly because I let them find their own way, preferring them to practice route-finding then me do a bunch of carries. An hour passed, than two.
It became apparent that we weren't going to make Apache Leap today. Even if we had stuck to the drainage, this land was far too rough for my kids to travel efficiently. I checked the map and decided to turn this into a loop hike - we would cross this drainage, head south to the next one, then follow that right back down to our parked car. By now most of the ice had melted and we were able to quickly head south and find the next drainage.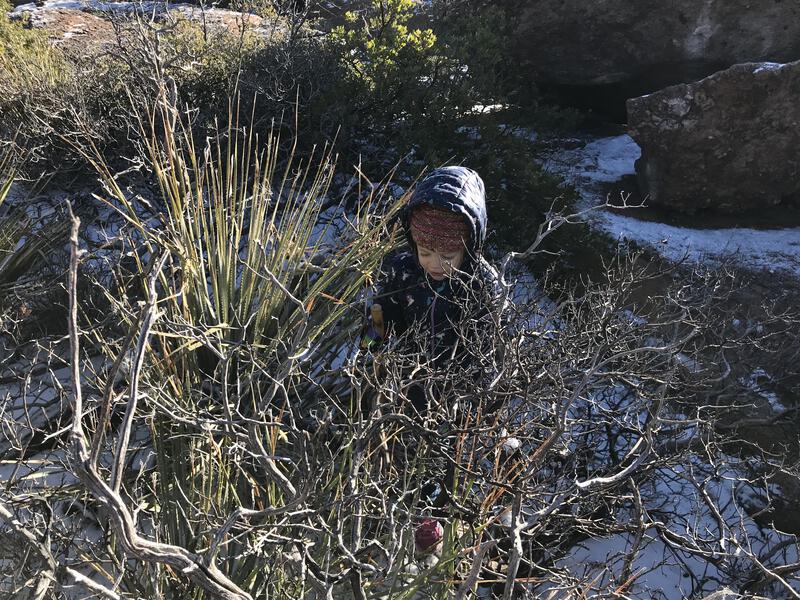 As the morning turned into afternoon we stopped for a long break, enjoying gingerbread cookies and drinks. There are really only two Christmas cookies that I make with them, gingerbread and sugar, more because it gives us a chance to decorate together than a need for sweet snacks to hang around the house. Plus, they really like calling out who designed the cookie before they eat it. Thomas is the most popular decorator, as he slathers on frosting in huge gobs, creating something that is more sugar than not.
After cookies and a few snowballs, and then a quick recovery for a lost glove, we continued on. The return drainage is larger and deeper, so I planned on using a tributary to drop down. There was more catclaw to deal with this time, maybe because this creek has more dependable flow, and thankfully the kids had enough thick layers that it wasn't a big deal.
We played in the water and marveled at the large junipers, found an old rock wall and guessed at its historic role, checked out small waterfalls and pushed through thick brush. Eventually we reached the bottom and followed it to within a few hundred yards of the parking area and came to a complete stop. The walls narrowed, water quickened, and brush grew higher than my head. Trying to get three little kids through this looked like madness.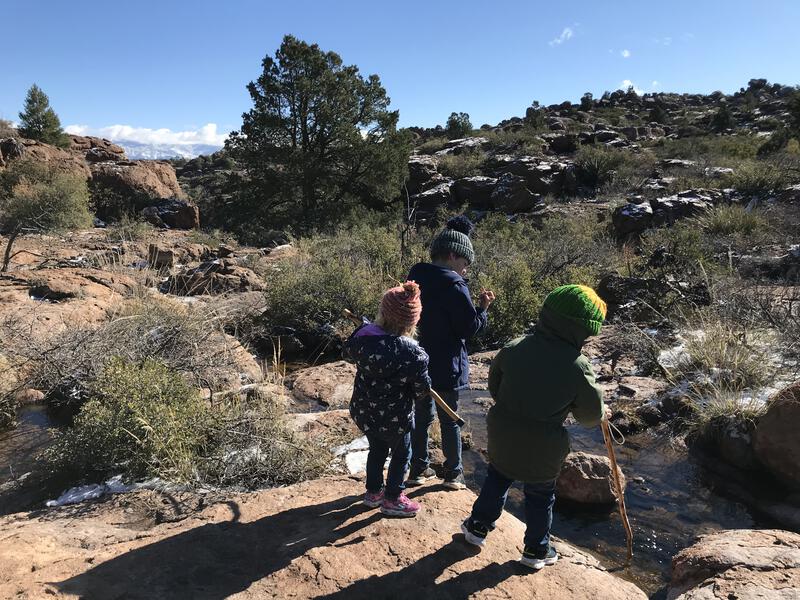 Charlotte was starting to whine, understandably tired after the full day, so I scooped her up and led the boys back up to the other bank, hoping to find another way. That ridgeline was far too rugged and high for us to use, though, and would have led us to a set of cliffs overlooking the lot without a way down. Noah and Thomas began to get worried and I gave them a clear set of options. Either we backtrack the entire route or we try to push through and complete the loop... But we do not spend the night out here. We decided to push through. I admired their grit and wondered if it was possible.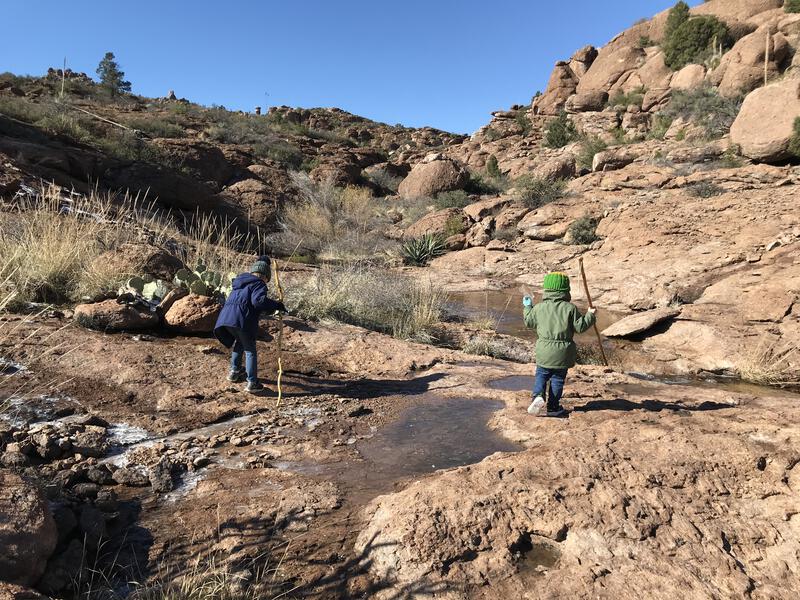 We took a quick break, back down by the drainage, and after a bit of scouting, I took Thomas and carried him through the brush. There was a slick drop to navigate, large boulders to crawl over, icy rocks in the creek, and plenty of catclaw to snag. I finally broke through the choke point and got him onto a flat clearing, out of sight and sound from the other two, and then had to ferry them individually through. I needed help from Noah and Thomas with their extra weight, especially with crossing the rocky creek. Finally all four of us were together, safe, and within a stone's through of the Jeep.
The last few steps felt victorious, and I didn't complain at all when they started playing in the wet gravel, the same dirt that had been frozen solid earlier today. It had taken us over five hours to travel maybe two miles. We may not have seen as much snow as I had hoped, yet we still got our adventure, and they got to play in several creeks and puddles throughout the day, still a rarity for these desert rats.