The noon sun hung high in the sky. I looked west, along the south shore of the Keweenaw, and mentally reviewed my status. All morning had been spent walking alongside Lake Superior, starting up near Horseshoe Harbor and curving around the eastern tip. I was near Keweenaw Point now, the farthest point on the hike from my car, and miles of remote hiking lay between me and the nearest road at Keystone Bay. My legs were tired and my feet sore and there was only unforgiving basalt outcroppings ahead.
Basalt wasn't a new sight on today's adventure. Sure, the northern shoreline was mostly conglomerate with large-grained beaches and the eastern had been a mix of boulders and rocks. The basalt had first showed up north of the Keweenaw Rocket Range, long points of dark rock ridges that stretched into the water laced with intricate quartz spiderweb veins. Now, though, on the southern shore, the water lapped at the base of the craggy rock with no beach below. Now my hike was proper rock-hopping, climbing over stained black and avoiding the occasional deadfall from the nearby forest.
I jumped and lunged, twisted and stretched, over the rugged route. It was not easy going. The path, when it existed, was more trouble than it was worth, blocked with numerous obstacles and quickly giving way to the undergrowth. Some of the outcroppings were tougher than others, forcing me to cling to the face while inching around, while others were flat and easy to stride across. I often had to inspect my route before tackling it, looking for the best path, and my pace slowed to a humble crawl. It was a good thing I had made good time up until now.
There were a few coves along the way, curves between the points filled with water-worn rocks and strewn with driftwood. They provided some relief from the solid bedrock, a chance for me to walk normally, even if the rocks rolled and shifted underfoot. At least this shoreline was giving me some variety.
As I walked a high drone slowly eased into hearing. At first I thought it was a plane, having heard something similar a few hours ago, and then the small outboard showed up to the east. I could make out two small figures in the boat, though they were too far for me to make out more than that. They slowed and I made a friendly wave before continuing on the shore to show that I was fine and not in need of help. The boat continued and passed beyond the curving shoreline.
Every once in a while more of the western shore would open up after a point. The southern shore is much more curved than the north or east, with Keystone and Big Bay both pointing southeast, and I could make out more and more as I continued west. I was eager to see more of the sands of Keystone Bay, a famed location in the area, and was quite happy when the thin white line between the forest green and deep lake blue.
Excited to reach the distant sands I almost didn't notice the boat on the shore. The small outboard that had passed me earlier was pushed up on the beach and two people lay in the sand. I was confused at first, wondering what was going on, before I noticed each one poking and moving around the rocks. More agate hunters. They were older and not very talkative, hesitant to even tell me where they had launched from that morning, and did not give me much advice on my route ahead. I passed them by after a few terse exchanges.
There was an obstacle between me and the sands of Keystone Bay, one that I did not know how to best tackle. I assumed that it couldn't be much more difficult than the sharp rocky route I had been walking on for over an hour now. Back in the summer of 2006 there was a wildfire out here, right on the shore, that consumed over a hundred acres. I could try staying on the water, dealing with whatever increased deadfall might lay along it, or try my luck in the woods. When I finally rounded the last green point the burned area leaped out at me like a harsh slap.
There were a few green trees left, lonely reminders of the forest that was once here, and everything else was grey and dead. The shoreline looked tough, still no beach and sharp black outcroppings, and there were plenty of dead trees sprawled out over the water. As I neared the burn it looked even worse, no undergrowth greening up yet, just dry wood and barrens. The burn area was depressing to be near.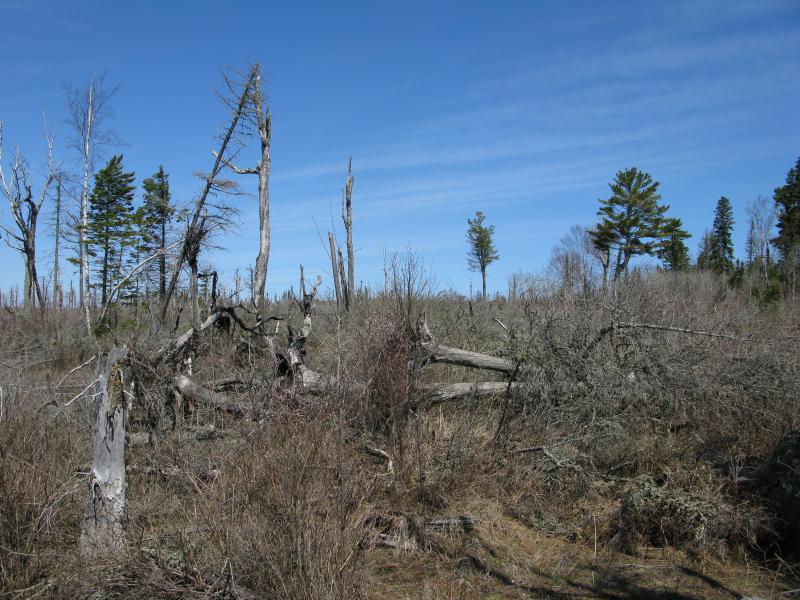 I decided to stick to the shoreline. I clambered along the bedrock, ducked under the trees, and eventually tried the ground above, weaving through mazes of deadfall. One thing that I noticed through the bare ground was just how tough and nasty the soil out here is. I had gotten some hints of it throughout the day, but now, walking through the scoured area, it really shone through. The Keweenaw soils is more gravel than anything else, just pebbles, rocks, and sandy soil. No wonder the forest up here is so scraggly and this burn area is still mostly empty, years after the fire.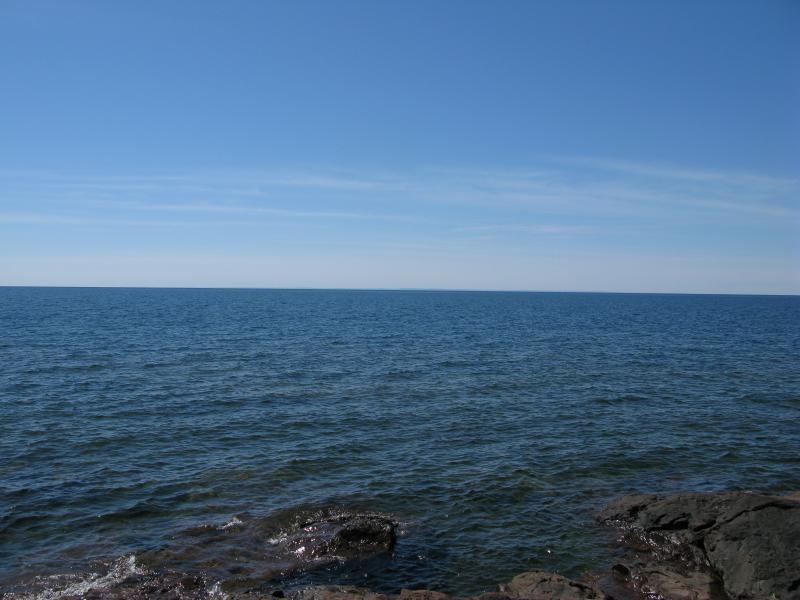 As I made my way through the burn I started to notice another factor. It was getting pretty hot out. I had started this hike in the wee hours of morning and had worn just enough to keep from shivering uncontrollably. Now I was down to a short sleeve shirt, everything else either tied around my waist or stuffed into my bag, and I was still heating up. Dry breezes rolled off the dead woods and Lake Superior reflected the sunlight on me, trapping me between two different heat transfers. I tried sipping my water slowly yet it wasn't enough. I ended up emptying almost a full third of my supply on this leg.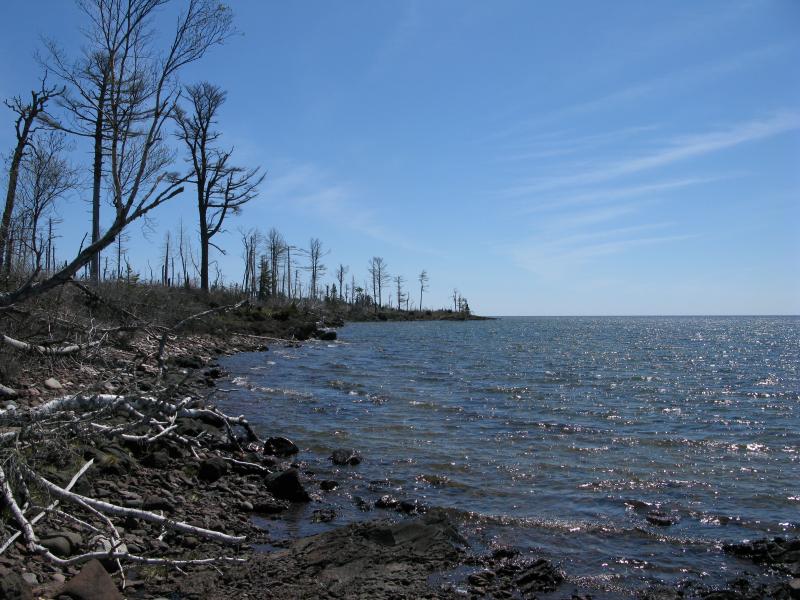 Finally the end showed up in the distance, a green forest above a rocky beach. I pushed forward, eager to escape from the burn. The last few hundred yards were the worse, with dozens of dead trees dangling over the rocks and water, forcing me to crawl and jump over the clawing dead branches. Then I saw a cut tree. This was weird. It was cut in two spots, opening up a small way through, right above a worn path. Another cut lined up ahead. There was a trail here. It was an overgrown trail, most of the downed trees blocking the route, but it was a footpath. The woodland footpath on the north shore continued all the way around the Keweenaw, even through the burn area, though it seemed to degrade severely south of High Rock Point. I wondered who made the path and why it was in such disrepair, if I had just came too early this year or if it was abandoned several years ago. Nonetheless it was comforting, even if it was too cluttered to help me much today.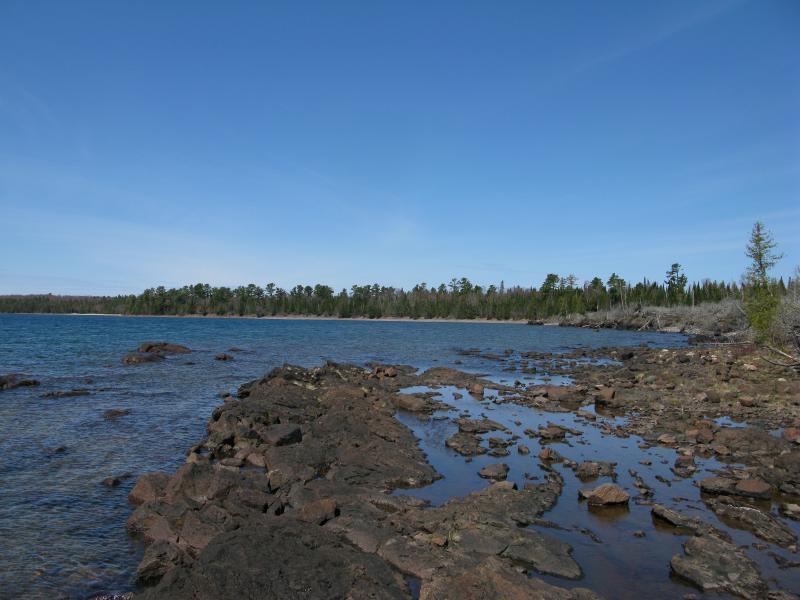 I finally reached the end of the burn, which oddly enough also marked the beginning of a long rocky cove. It felt great to have a green forest to my side and a flat (well, sloped) beach below my feet. I stretched out my legs, taking long strides across the giving ground, and quickened my pace. Keystone Bay was just around the next point.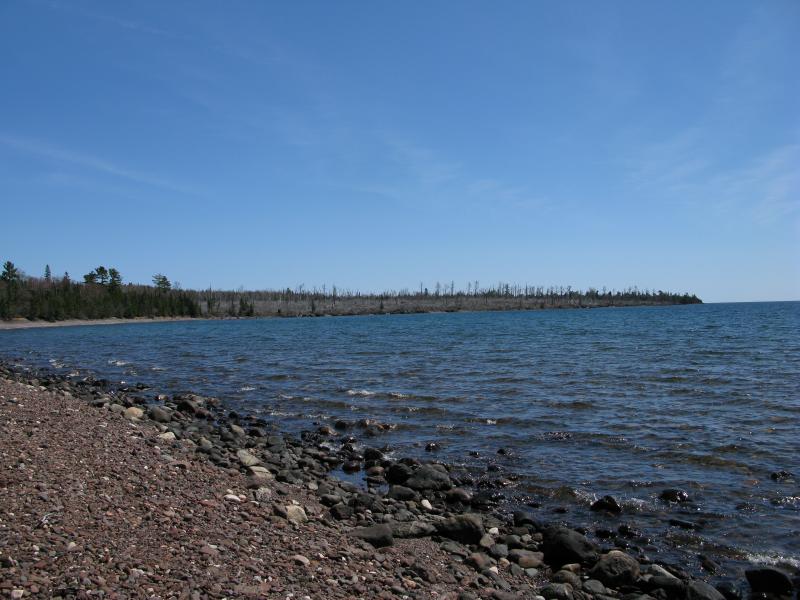 As I neared the point I noticed the woods opening up into a clearing under huge pines and, curious, left the shore. There was a large camp set up here with several pits, benches, and dozens of ATV tracks. I was east of Union Creek still. I had heard that Keystone Bay was privately owned (though technically the beach would be public domain, I think, and only the surrounding access points would be private), so I figured this land must be public still. I left the campsite and headed to the beach, the alluring sand slowly taking over the rocky shoreline, and soon found myself at another obstacle.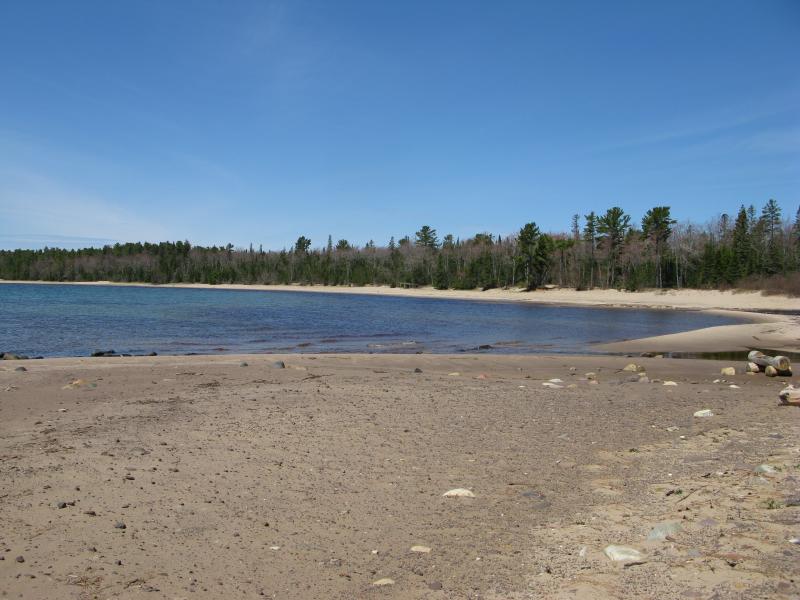 Even though I had been walking along Lake Superior all day I had kept my feet dry. Twenty-miles-or-more in wet boots sounded like an excellent way to rip up my feet. Now, though, Union Creek ran across my route. I fretted a bit, feeling a bit childish, looking for a dry way across, and found none. With a deep sigh I plowed across, the water bubbling over my toes playfully. The dry boots were nice while they lasted.
Sand stretched out ahead, no rocks or outcroppings poking through, only a few strands of weeds washed up on shore to spoil its smooth surface. I would go as far as calling this a white sand beach, though my wife vehemently argues that there is no such thing in the Keweenaw, that true white sand beaches are down in the Bahamas or wherever. After miles and miles of basalt, cobble beaches, rocky ankle-twisters, and slick conglomerate outcroppings, this was heavenly, and it beat any sort of distant island beach out there.
I walked and pondered my route. Part of me wanted to continue west, journeying across Keystone Bay and Big Bay beyond, and not cut back north to my car and complete the circle until I reached Fish Cove. My legs were tired but not exhausted, there was enough daylight, and I had plenty of food. I did not have enough water. I could fill up my empty bottles on the creeks, a risk I've made plenty of times before. The spring melt worried me. Every creek I had passed was stained brown with tannins, swollen with the last of the spring melt. Water that had been frozen for months and sitting in swamps for weeks was still draining, possibly teeming with bugs and who-knows-what. Big Bay and Fish Cove could wait. When I bumped into a few paths leading north, away from the lake, I turned with them. It was time to cut back to my car, though I had one more major destination to reach before this adventure was over.