A bright pink-orange glow lit up the side of my tent early in the morning. I jumped out of the sleeping bag and my breath was taken away by the fiery view over Lake Superior. Caught in Wisconsin traffic on my drive up last night, I had climbed Raven's Nest near Little Huron River late at night through the dark and could barely make out the surrounding view in the rising moon's light. Now, with the sun's rays blazing across the landscape, the rocky top offered 270° vistas, including a direct shot at the beautiful sunrise.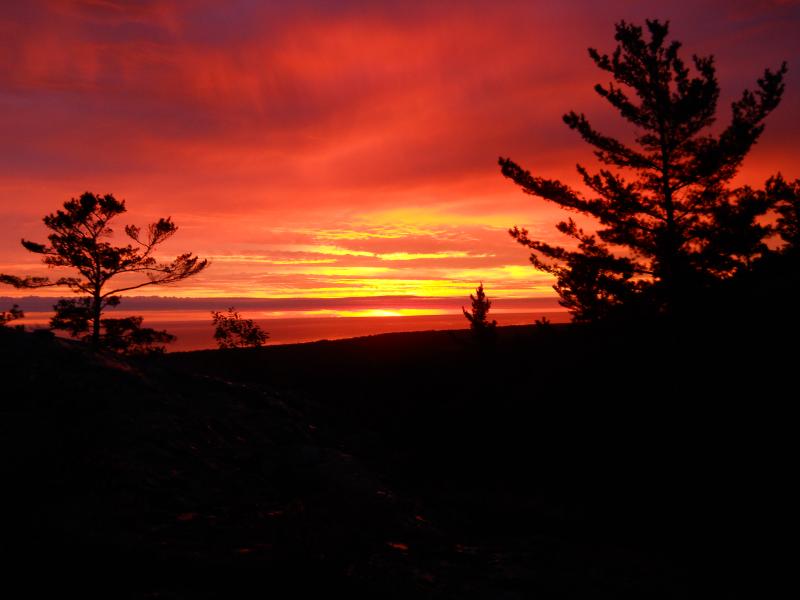 Today's morning hike didn't give me much time to delay, though. I only had a few hours before some friends would be meeting me at Big Erick's Bridge. Ducking into the brush on the north side of Raven's Nest I struck east towards the Huron Mountain Club's property. There are a few hilltops covered in scraggly brush that had potential views of Huron Mountain, Howe Lake, and Rush Lake on the verge of their property (all three of these are within the Club).
Hoping to get some more views of the rising sun during my hike I stuck to the ridgeline parallel to Lake Superior's shore. Recently logged and covered in hip-deep undergrowth, the ridgeline did not offer views or pleasant hiking. A gentle rain kicked up and drenched the vegetation, soon soaking my pants and jeans. One mile of this wet bushwhacking was more than enough and I cut south to a two-track marked on my topo map that made a much easier route.
This logging road seemed to be surprisingly well traveled, even though I'm not entirely sure where it meets up with the Little Huron River road system. There was a single cabin being built by hand with a forced view of the Huron Islands to the north, but otherwise the area was too vacant to account for the amount of tracks on the dirt road. Shrugging it off, I continued east several miles until I bumped into the inevitable 'No Trespassing' signs of the Huron Mountain Club blocking the road.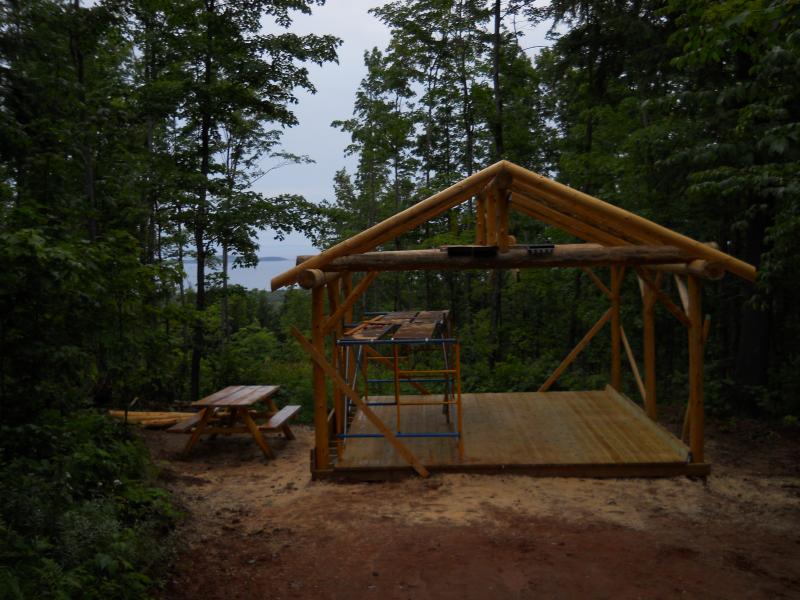 I headed due south here along some blue blazes, what I thought their property line was. After reaching the top of this hill I was disappointed by a few limited southern views of Mount Benison. The blue blazes had faded away during the climb, so I cautiously headed further east in hopes for better views. After a few hundred yards a rocky outcropping greeted me with beautiful, sweeping views north and east of the lakes and Huron Mountain.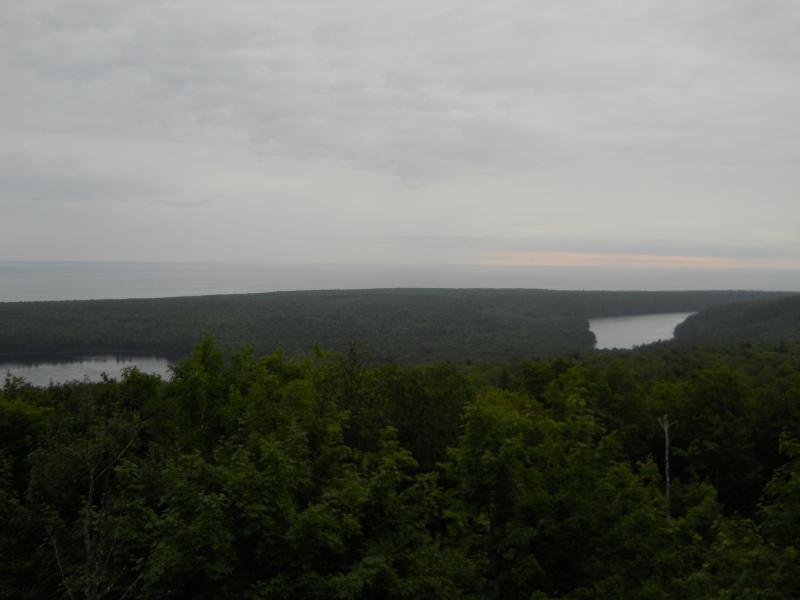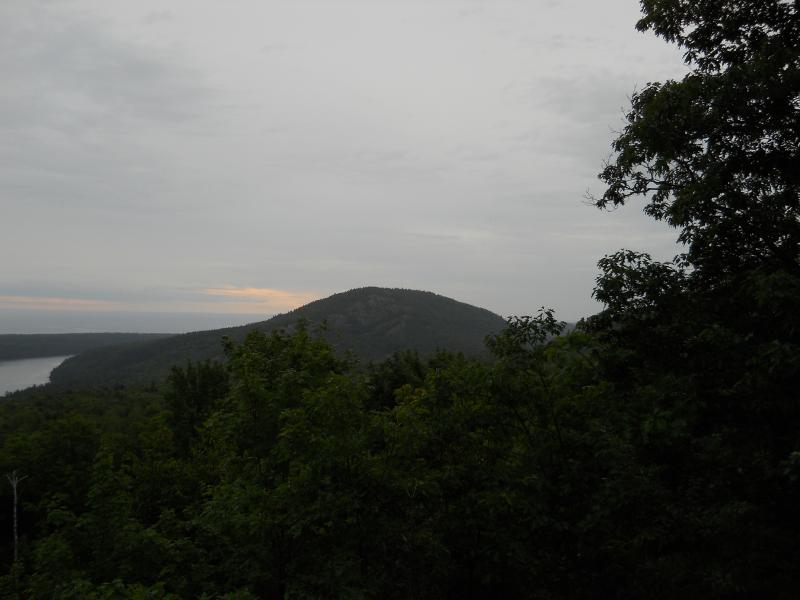 A four-wheeler trail headed east from here, presumably used by members of the Huron Mountain Club to reach this view. Unsure of who's property I was on, I quickly headed back west towards the two-track I had followed in. On my way back I noticed a trail leading up to the south marked as a 'Scenic Overlook'. Surprised to see a marked trail this remote, I followed the orange blazes along a damp, overgrown trail that did not result in any views, scenic or not. After wandering several miles out of my way I burst back onto the two-track disappointed and even more soaked then before.
When I was less than a 1/2 mile from my parked car at the base of Raven's Nest I was shocked to find a gate and some angry signs. The Huron Mountain Club had recently purchased all of the land I had just hiked through! Surprised and chagrined, I slunk past the gate and quickly trotted down to my car. The viewpoint I had reached was definitely worthy of a repeat visit, especially with a two-track providing such an easy route. However, with the Club's recent purchase and their strict policies on trespassing, it appears that this entire area is now off limits. This chunk of land is distressingly close to Raven's Nest and some of the other Western Huron Mountains, and I hope that they do not continue buying land in this area.