Hackberry Spring is a great destination for a family hike. It's a short distance from the First Water horse lot, a good portion of it is in the shade, and there is a pleasant spot to rest (and play) near the spring. The only annoying thing is that we've done this hike… four times now? Maybe five? It was time to find a new way to get there.
I parked at Needle Vista, a small parking lot a few miles past the turn-off to First Water trailhead. It was all paved, which was already a benefit compared to the rough, bumpy road that we usually take. Our van was the only vehicle in the lot so I took my time getting everyone ready to go, making sure that we had full water containers and smearing sunscreen over all three of the kids. We then headed out in grand fashion, the boys tromping ahead in their boots and Charlotte cooing loudly in the carrier. The first few hundred yards were along a cement sidewalk that we quickly turned off of to find a nearby wash that was much more fun to play in.
While we had started at a place called Needle Vista and there had been a decent view of Weaver's Needle from the sidewalk, I expected that more views would show up along the way. For a while we were stuck in the wash, following it upstream along an obvious well-traveled path, navigating around some rocky sections and forks as they arrived. This was pleasant going and the boys had fun trudging in the sandy sections and climbing around the rocks. I let them pick up sticks to walk with, something I usually avoid as it slows down their pace considerably. A mile in the track climbed out of the wash and followed a ridge and, right on time, a great view of both the needle and Superstition Ridgeline showed up.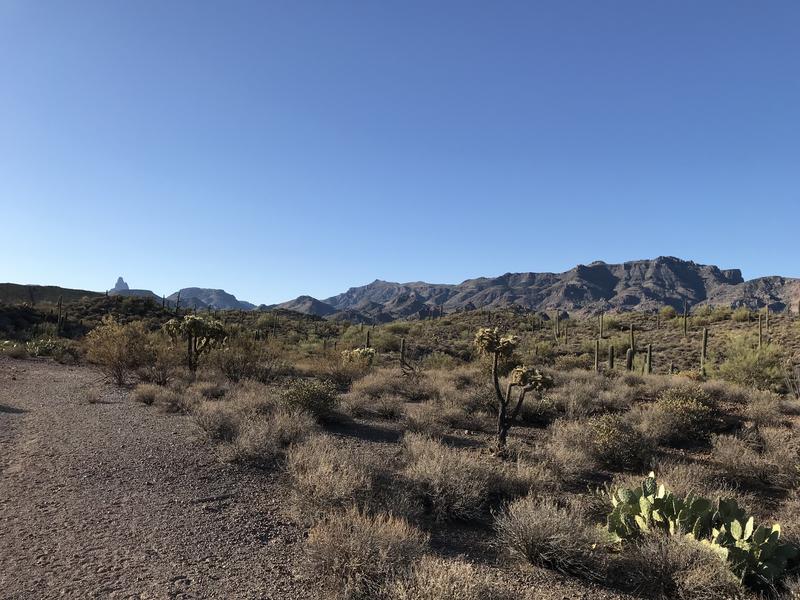 Along the ridge we bumped into a new, recently cleared trail that was labeled 'Hackberry Springs'. It must connect up at the horse lot. We took the hint and turned the other way and followed up a steep, yet shaded, hillside and topped off near the highpoint of our hike, right at the border of the wilderness. There was a fork in the trail. The main way went down to the left and would lead us right to the spring, and the right fork probably made a more scenic journey down. We headed to the right.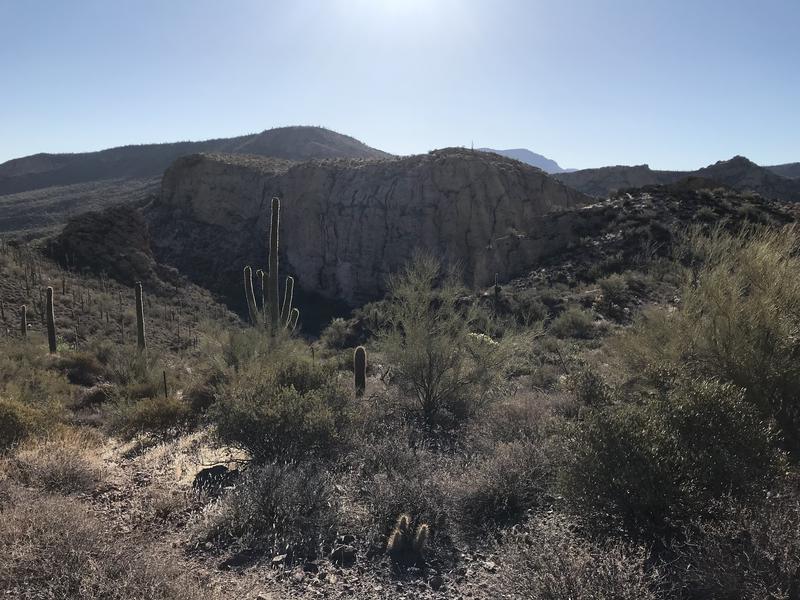 This was a steep drop, all the more rough as an unofficial trail, and I had to have the boys hold my hand a few times. They were starting to get a little crabby, with the hot sun shining down on our exposed position, so I hurried them along down to the bottom. We ended up at the base of a familiar wash. This was the way we take from the horse lot, and the fun part starts here. Between the pretty bedrock drops and shade both boys perked right up.
A few minutes later and we were in the main First Water Wash. I still miss that first time I took the boys out here, several years back, when this was all new terrain and there was water sitting along the bottom. They had so much fun splashing rocks in the pools. Every visit since then has been dry, a combination of bad timing and droughts. It's still a fun area, just a bit drier than we'd like it.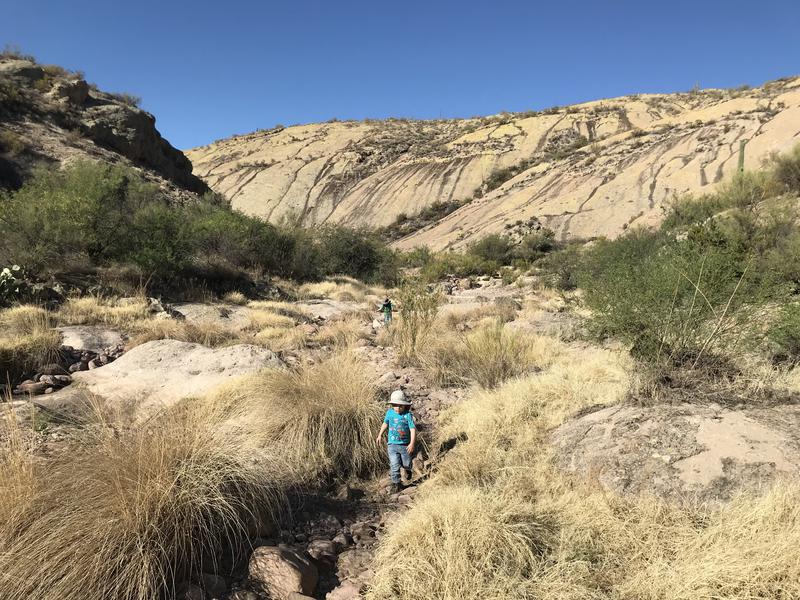 My boys had no trouble navigating the boulder field within the narrow section. I've had to carry them past obstacles or give them a steady hand before, and now they zip along on steady feet and work out the problems on their own. Charlotte has some high standards to meet when she starts hiking on her own two feet… maybe as soon as this fall? Good grief they grow up fast.
Noah led us up the bank along one of the paths, Thomas and I hanging back for one reason to another. We then heard a high-pitched shriek and Noah ran back to us, shaking and reaching for me. I had to drop down to his level to get him to calm down and tell me what happened. There was a snake ahead, and it took a while to coax out that the snake had not bit him (or rattled). We walked up together so he could show me the small, non-poisonous ground snake, and I carefully pushed him off the path with a stick and walked the boys past. Afterwards we talked about how we need to be careful around the wildlife and that, as long as we don't hurt or scare anything, we don't need to be scared of them. I don't think Noah's sold on that yet.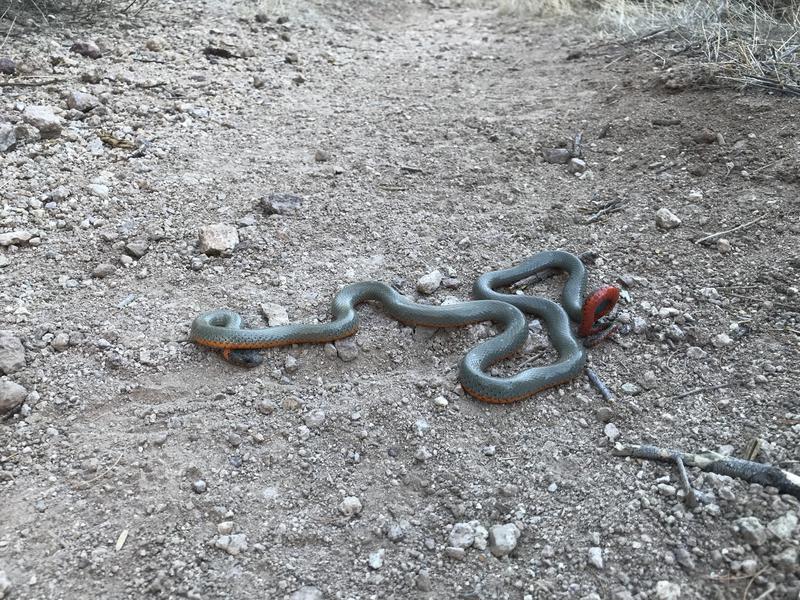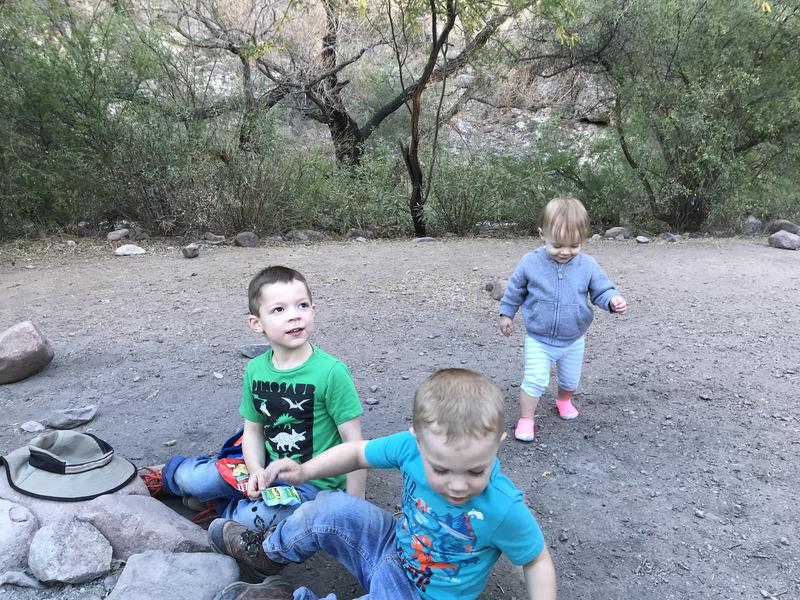 A few minutes later and we got to the spring. We checked it out (Hackberry is low yet still dripping) and then headed over to a nearby campsite to relax. Charlotte toddled around and ate applesauce and the boys munched on their own snacks. While we were there I took the opportunity to talk about why it's important to not leave wrappers or crumbs outside, especially at campsites, to keep animals from getting curious or sick. If they're old enough to be out here then they are old enough to start getting lessons on how to do this responsibly.
When they started picking up and carrying rocks around I figured they had enough energy to head out. We packed up, checking to make sure we had everything, and then headed back to the bank. That path that forked before was right here and we zipped up a steep, loose route to the wilderness boundary. The boys did a good job and we had the climb knocked out in no time.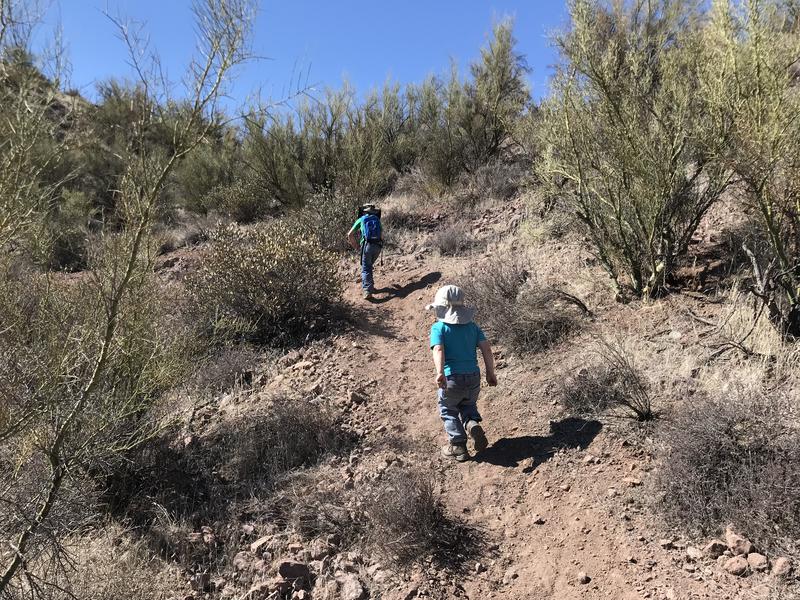 Back at the fork it was time to backtrack, to drop down that hillside and follow the ridge and retrace the wash to the vista. Along the way I checked out the views of the ridgeline. I should get back up there sometime soon, maybe. That's a fun hike to do with a group, and I don't really have a group anymore. Well, I have the boys. They are years and years away from something like that. I think. Shoot, I'm playing most of this by ear, so maybe they'll be gunning for it in the fall.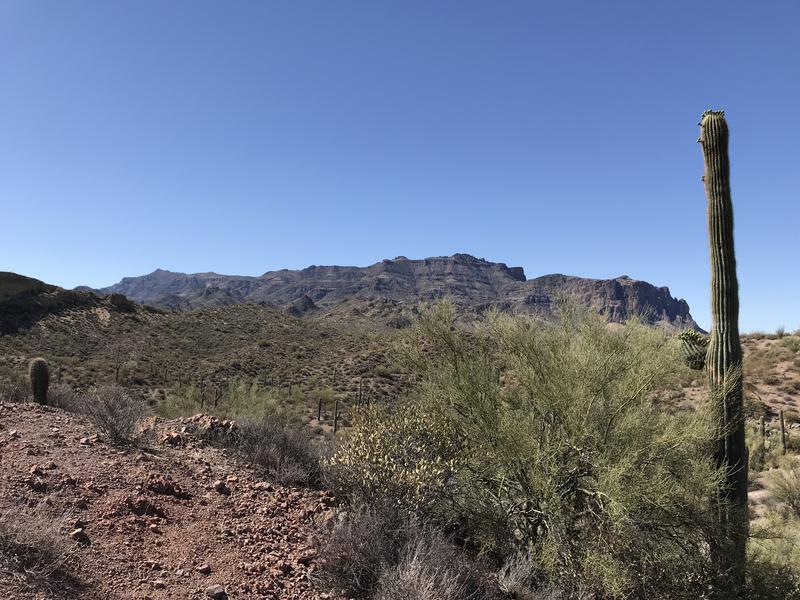 We stopped a few times on the way back. Even though it was all downhill to the van it had been a long day (ended up being four miles in all) and the temps were uncomfortably hot, even in the wash. When we reached the van, just over three hours after leaving it, the boys had enough energy to buckle up, take off their boots, ask for cold water, and then fall right asleep. These early summer hikes avoid the worst of the temps and still wipe them right out.