Heading out on an ambitious backpack in the Mazatzal Wilderness seemed like the perfect way to end 2017. Of course, backpacking in the end of December meant dealing with cold temperatures, even in Arizona, so my pack was heavy with all the cold-weather gear that usually collects dust in my closet. Between my twenty-degree sleeping bag, tent, liner, and extra clothes, plus the usual riff-raff, I was hauling over thirty pounds into the mountains, and my legs and back complained from the start. So, almost a perfect way to end the year.
The plan was beautiful in concept. I was going to hike the Red Hills and Midnight Mesa sections of the wilderness, completing a wide array of trails over three days. All that would be left of the Mazatzal Project for me to finish in 2018 were a few northern trails, a simple backpack on the west side, and a short trail near Bartlett Lake. What that meant in practice, though, was that I only had two reliable sources of water, miles of overgrown trails, and freezing overnight temperatures. This was going to be a challenging outing.
After car-camping at City Creek Trailhead I shivered for two miles up the Mazatzal Divide Trail. It was surprisingly cold in the lowlands around Pole Hollow and City Creek, and the steep grade wasn't enough to warm me up. Two miles and a thousand feet of gain got me away from the settled cold and to my first good look at a dim North Peak ahead. Had a long ways to go yet.
It would end up taking me three hours to climb up the Mazatzal Divide, a full hour longer than I expected. The full pack really slowed me down. As the sun rose, forcing me to shed a layer, I kicked myself for not getting an earlier start. I wasn't getting great sleep in the back of the van anyways, no reason why I couldn't have hit the trail earlier and knocked all this out before the light. Sure, the scenery was likeable enough, it was all just stuff that I already saw last spring. I wanted to save the daylight for new views.
I stopped at the top, at the junction with Red Hills Trail, to both give my back a break and to mix up some caffeine/electrolyte drink. No time for coffee this morning - the fruity powder would have to do. The junction was in the shade and right above a little valley, and I could feel the cold seeping up, so as soon as the sweat on my back dried I pulled a sweater back on. Didn't want to burn energy shivering when I had the extra clothing.
Red Hills Trail is a long thing that acts a lot like Sheep Creek Trail to the south. The first few miles lay along the Arizona Trail and is very well-maintained and heavily trafficked. When it branches off it drops steeply down the mountain ridge and is less traveled, and then it becomes less and less defined as it enters the old burn areas. The entire thing is over sixteen miles long and, if I stuck to the plan, I'd be hiking the full length on this outing.
A few yards onto the trail and I was immediately glad that I had pulled on my sweater. The temperature dropped quickly as we entered the little, protected valley, to the point where I kept glancing at nearby leaves to look for frost. Not like there's enough water in the air for frost - we're still in the midst of a significant dry period that has a lot of people wondering how bad next spring will be for wildfires.
Along the way I saw several little campsites along the dry wash running the length of this valley. Between the tall pines and potential for water here I made a mental note to come back here to camp. The catch of cold has got to be nice for hot summer backpacks, especially during monsoon season. There's a nice loop that could be done here, maybe twenty miles total, that includes several trails and a boring section of roadwalk. Perhaps I can lure Chris out here next year for a return visit.
Too soon I reached the base of the valley, where several washes come together to flow north into Boardinghouse Canyon, and it was time to go back uphill. The climb wasn't much, only five hundred feet or so, yet my legs were not happy with my pack weight (or the 2500' climb from earlier this morning). I'll blame it on the pack weight. I took off the sweater and leaned into it, tracking one cairn after another, until things leveled out and I suddenly came upon another trail crossing. These milestones were coming fast.
Red Hills Trail continues to be well-defined as it left the Arizona Trail, although what was once a mix of footprints and animal prints was now dominated by horseshoe tracks. Apparently this section of trail is more popular with riders than walkers. I walked through younger forest, then scarred forest, then older forest, before stepping up to a sudden drop off. This, this was much more rugged than my topo map studies would have led me to believe.
Eight hundred feet below me was a nested valley with a rich pine forest clustered what I suspect to be a seasonal tributary, and Fuller Seep lay somewhere downstream of that forest. Across the valley and to the west was Wet Bottom Creek, somewhere over there, with Midnight Mesa and the hills of Seven Springs beyond. This valley was of much more immediate interest for now, with steep hills surrounding, and I had to find a way down. Well, the trail had to find a way down.
While the route was very steep and loose it had plenty of switchbacks to ease over, darting back and forth in segments sometimes less than a few yards long. Must be some skilled horses (and riders) to navigate this thing - it was hard enough for my two feet. The grade lessened near the bottom and allowed me to trot a bit, making up some time, and after a quick recon at a campsite I reached the seep at 10:30. With my heavy pack it had taken me five hours to walk ten miles… Easy math to estimate my max range in the seven hours I had left before sunset.
For now I mostly had to worry about watering up. Fuller Seep was one of the most dependable water sources in the area and I wasn't about to pass it up. I drink my fill from my pack, which I had barely touched so far this morning, and filled back up to full capacity. It was almost late enough for lunch so I munched on a few extra snacks, though I kept my jalapeño tuna for a special treat if I made good time to my next stop.
As I packed up and got ready to go I debated my next section. Soon I'd be passing by a trail junction and my plan was to stay on Red Hills Trail and do a counter-clockwise loop, which would send me into the toughest piece of trail today. I like getting the tough stuff knocked out right away. It would also leave me with a stretch of seventeen miles with questionable water sources. The option was to turn down Midnight Trail and aim for Mountain Spring. I decided to stick with the plan, which would flow nicer and give me a fresh direction along three miles of repeat trails.
My going was surprisingly easy all the way to the junction, with a good tread and huge cairns keeping me from straying. I paused at the junction and tried not to reevaluate my choice, as Midnight Trail looked so well-defined from here. Instead I kept to Red Hills, which began to get slightly overgrown, though it was clear enough to stretch my legs on. It wasn't until I stepped onto a saddle and looked down into Wet Bottom Creek that I had my first serious misgivings about this route.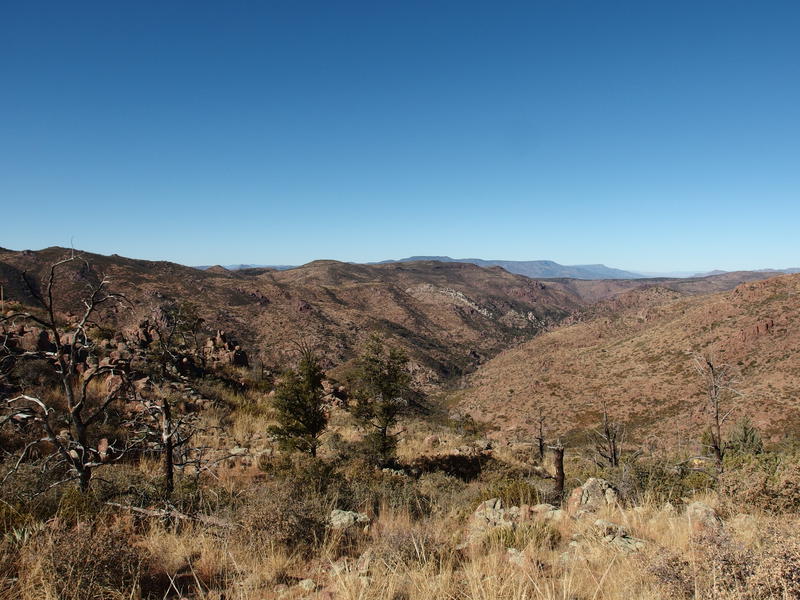 The creek looked so, so far away, and the western bank rose just as high on the far side. Did I really have to drop all the way down and climb all the way back up? At least there was the promised paradise at the bottom, a mention from previous hikers that an epic pool waited down there that held enough water to supply a small army, a virtual oasis in this dry desert land. With a deep sigh I cinched my straps and headed down.
Every hundred yards or so the trail would make a drastic change, often for the worst. There was some minor overgrowth to deal with first, then deadfall, and then a steep ridgeline with virtually no cairns or path to follow. I knew things would only get worst on the other bank too, which was somewhat protected from the afternoon sun, and would have both more deadfall and brush to deal with. The last few section got ridiculously difficult, as the trail completely disappeared and I was left navigating alone around boulders and cacti, moving in a general downhill direction, trying not to lose footing on the crumbling grade.
A few cairns showed up at the base of the hill and swung to the right, avoiding direct confrontation with the creek. As I followed them I kept listening for a babbling flow or cherubim chorus to mark where the epic pool awaited me. When I finally ascended to little overlook I scrambled quickly and found… Nothing. There was nothing down there. Unbelieving, I rushed down into the sandy bed, which was bone-dry, and then quickly hiked both upstream and downstream. There was no water to be found anywhere.
Well, what to do now? If this was dry then my next two water sources didn't stand a chance. And the temperatures, which had been so chilly this morning, had warmed up substantially - I was wearing a sleeveless shirt and had worked up a constant sweat under the afternoon sun. If I pushed on with the water I had I could ration, sure, and have a very dry and uncomfortable camp. That did it. The thought of a dry camp after a hot day of hiking, low on water, and dealing with fifteen hours of darkness made up my mind. It was time to bail.
Today, with the gift of hindsight, I realize that I could have done something differently. If I had turned down Midnight Trail, even after turning around at Wet Bottom Creek, I could have leveraged the water source at Mountain Spring and still gotten the loop done. This is one of those decisions that I should have made beforehand, to come up with a Plan B, because if I have to make a call while I'm out there I'll almost always go with what gets back to a comfortable bed the quickest.
The climb back out was long, hot, and only a bit easier now that I had a general idea on how the trail wound uphill. A few more cairns were found, some extra tread was found hiding under the brush. I reached the top exhausted but with a renewed goal. If I was going to do this, going to bail on the backpack with this heavy pack, then the least I could do was turn it into a stupidly long dayhike. I rushed back to Fuller Seep for a second lunch and water refill.
Knowing that this would be last water source of the day I took my time and filled back up to full capacity. I briefly thought about opening up that jalepeño tuna, but I was bailing on what could have been an amazing backpack. I didn't deserve a special treat.
The climb up and out of the valley was my last significant one of the day and it hurt. I kept up a good pace for the first half, steadily marching up the grade as it steepened, and saved the more pitiful stumble-pause-stumble for the end. When I eventually crested I gave myself one good look over the valley below, drinking in the afternoon light, before turning and pushing along the flat ground with renewed gusto.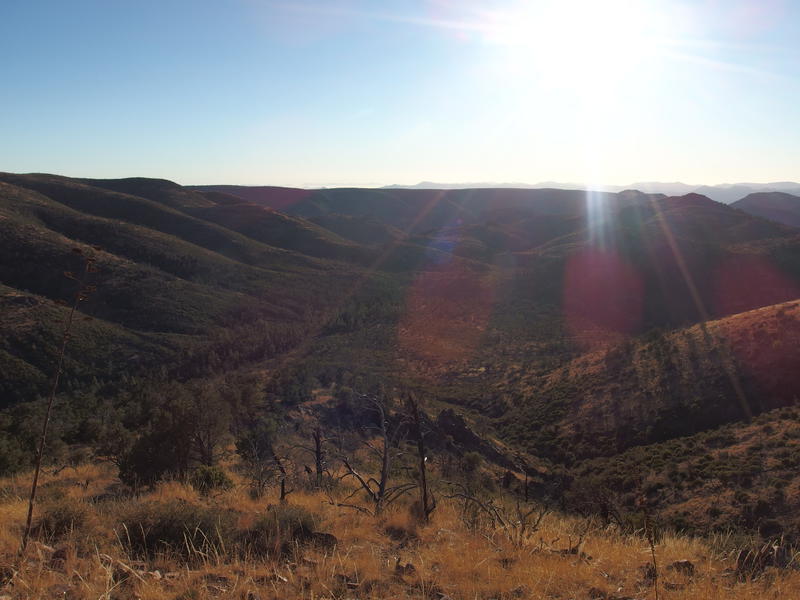 Once I reached Brush Trail junction I stopped for another water break. That haul up from Fuller Seep had worked up a good sweat. As I sipped another liter I realized that I must have drank two gallons today, even though I didn't feel particularly hydrated. My water needs on these backpacks are pretty ridiculous, even during the winter. Perhaps I need to slow down or find some way to limit my intake.
Brush Trail ended up being a pretty trail that slowly descended off the hills, offering some views north and west along the way. I could even make out Humphrey's up past Flagstaff. I also tried to pick out Hardscrabble Creek or Deadman Mesa on the other side of East Verde River and failed. All the little ridges and creeks seemed to blend together.
The plan was to take Brush and Bull Spring Trail, both part of the Arizona Trail, down to LF Ranch, which sits on the banks of East Verde. From there I could turn and take Doll Baby Road back to my car. Each segment of trail was between three and five miles long, and, with the exception of the road, would be mostly downhill tread. That road has a few short hills to cross over that my legs weren't looking forward to.
There was only one downhill section of Brush Trail that was annoying. Much of it was gradual and sandy except for a short leg of rolling rocks that slowed me right down. Once beyond that I followed a rocky wash downstream and bumped into a couple who were setting up camp, the only other hikers I'd seen all day, and we exchanged some words before I pushed on. My daylight was slipping by and I had a long ways to hike.
It was mile 21, right after the last little climb of the trail (it never is all downhill), that I finally gave in and pulled out my headlamp and some warmer clothes. The moon wasn't quite bright enough to go without, especially with some sections of shaded switchbacks. Once I was all set up I slowly got up, back complaining loudly about my pack weight, and continued along.
Nothing much happened over the next few miles. Things seemed to be pretty, for what I could make out by the moonlight. I'll be back on Bull Spring Trail in the spring so I wasn't too worried about missing out today. The last mile got confusing, as things flattened along on an old road that crossed some washes and was hard to track by headlamp, then cattle tracks began to compete with the barely-defined track. When I stepped onto the road I felt like I was practically back in the van already.
Yet I wasn't. I still had close to five miles of Doll Baby Road to walk, and this road was probably worse than the last two trails combined. Loose sections rolled underfoot, the elevation rose and fell with annoying frequency, and the low spots were cold enough to get my teeth chattering. Part of me had hoped to bump into a ranching vehicle that would give me a ride, back when I still thought I'd be hiking this in the light after a few days in the backcountry, and there was no hope for that now.
Almost 10:30 when I finally reached City Creek Trailhead and my vehicle. So, it took me 17 hours to hike 30 miles with a heavy, cold-weather pack on. There was a lot of elevation to deal with, and the trail conditions were mostly excellent, so I suppose it evens out. The warmer springtime seems like a great time to try these trails again, with lightweight gear, and maybe this area will see some rain in the meantime to refill some of the springs. That, that would make this area more enjoyable.