This year I've been experimenting a lot with new gear and new backpacking practices. After a few adventures with thirty or more pounds (including nine days on Isle Royale) I've shifted to an ultralight setup that sometimes sinks to a wonderful sub-five base weight. My water system has gotten lighter and easier to work with and the foods I bring along are densely protein-packed. I've even been playing with another option this year with mixed results - sleeping in a hammock.
Now, before I start going through my experiences with the hammock, it only makes sense to go over the system. A hammock is not a standalone piece; it has to work with multiple items to make an effective sleep and shelter system. My default shelter is made up of an independent tarp and mosquito net held up by trekking poles and cordage. The tarp (barely) fits over my hammock on the ridgeline, secured by the same cordage for the ground shelter, and the mosquito net can be draped over the same ridgeline and secured by a few clips for a mostly bug-proof option. A sleeping mat and quilt works on both the ground and the hammock, with the mat providing some bottom insulation as needed. So when I'm spending a night in a hammock there's a good chance that I'm utilizing some, if not all, of my normal setup. Which only add weight (spoilers!)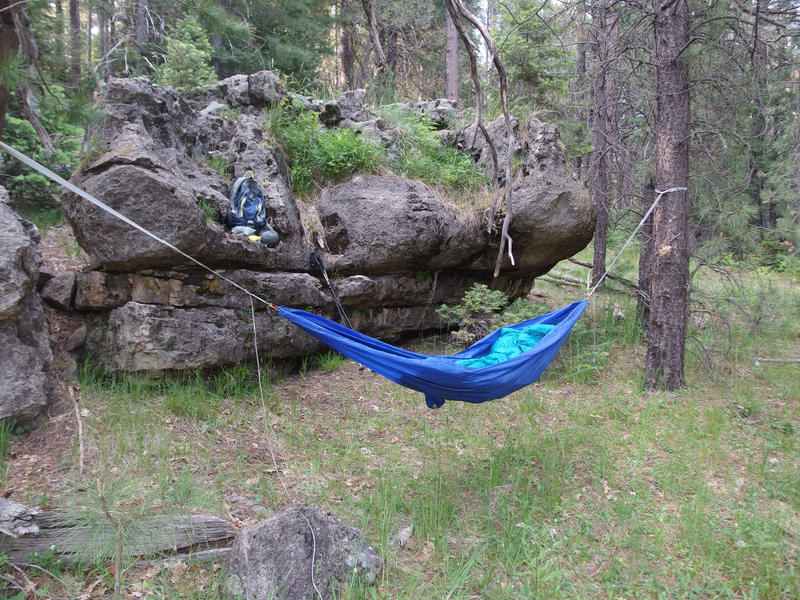 My first experience with the hammock was up on the Cabin Loop of the Mogollon Rim, an area that I've been to three times now. It's a solid loop with dependable water and there are real pines up there, things that the hikes down here near Phoenix can't hold a light to. Anyways, that trip didn't turn out so great. I used my quilt on top and a mat on bottom and I froze. The lows were somewhere below fifty, which is all my quilt was rated for, and I ended up curled up next to Katie in her tent both nights.
The first night I managed to stick it out for a few hours, and those few hours was one of the most comfortable bouts of sleep I've ever had outside. I hit the perfect pitch and the right angle and fell asleep in minutes, only waking when my calves began to feel icy (three-quarters sleeping pad). I did try to tie my poncho underneath the second night in order to trap some heat, which worked okay, though the pitch was all wrong or something and I gave up after forty minutes of tossing and turning.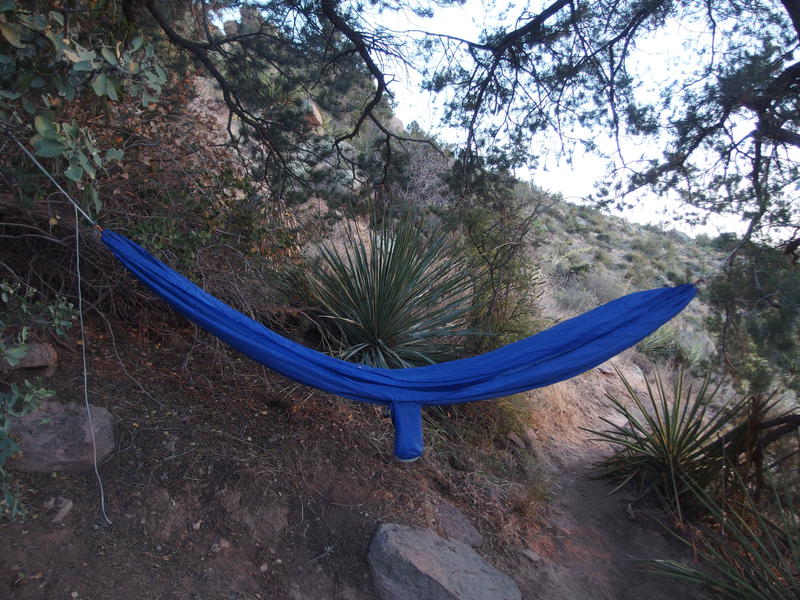 After the cold lows on the Cabin Loop I decided to take advantage of the hot temperatures of Phoenix and do an overnight on Flatiron. I hauled up my quilt, the hammock, and little else up the 2600' climb and found two pines to strap to. It was a heck of a climb and not the smartest idea, even if the night time temperatures worked perfect. I didn't even need my quilt. Sprawled out in my boxers on a hammock slung near the edge of a gut-churning cliff I had a fitful night of sleep.
Blaming the poor sleep on a bad pitch, and maybe a bit from the occasional moth or bug dropping down on me from the tree above, I considered this a step forward. I didn't need any insulation above or below me in these temperatures (low of 80) which would save me considerable weight on similar trips. There's no way I would have slept on the ground, even under a mosquito net, without a sleeping bag in the desert.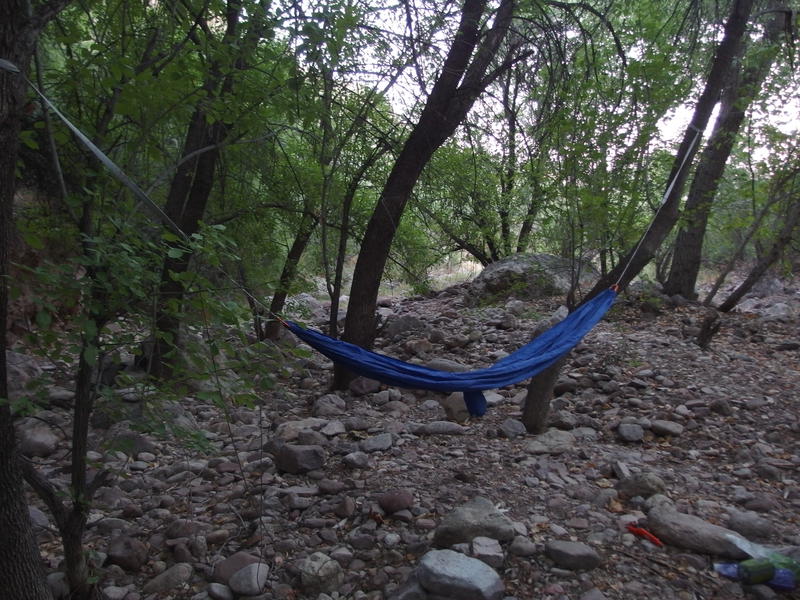 So on my next hot summer outing I decided to leave the quilt and mat at home and only bring the hammock and a bug net. A long hike out to Charlebois later and I got my stuff set up in La Barge Wash, near a year-round spring. And I regretted it all night long. The year-round spring attracted a ton of nocturnal wildlife and had me jumping at every leaf crunch and branch snap. Plus, the temps did drop below seventy that night, thanks to the microclimate of a wash in the shadow of Music Mountain. Ended up wearing every piece of clothing I had brought out just to make it through the night.
New lesson - washes get cold overnight, possibly too cold for hammocks without insulation. But washes had trees. So either I had to gain a ton of elevation to find trees (like on the Mogollon Rim) and probably face too cold lows or I had to descend into a wash (like the one in La Barge) and deal with animals and microclimates. Or find a weird mix between the two like Flatiron. Even the Mazatzals, which are high enough to support plenty of pine forests, have overnight lows that would require bottom insulation.
So, how do I feel about the hammock? Well, it does add weight. If I wanted to be safe I'd bring along my tarp and net, basically my default tarp shelter, plus the mat and quilt for insulation. So the hammock only adds weight (over a pound!) to my default shelter (which is less than a pound). That doesn't sit well with my ultralight sensibilities. Plus, I've yet to have a truly good night of sleep with it. As a novelty item its neat, but practically it doesn't make sense yet. I'll probably continue to test it out if the conditions make sense. I will say that I just came back from an overnight in the Mazatzals under a tarp tent and it was a pleasant change from shivering in an exposed hammock.