Early in 2016 I started using a Sawyer Mini as my primary water filter for hiking and backpacking. It was a huge weight savings, going from a one pound MSR down to a little thing that weighs a hair over two ounces. However, I immediately ran into two problems while using it. I couldn't come up with a good way of collecting dirty water, and forcing water through the filter was tedious.
See, the Sawyer is just a filter. Unlike many of the other options on the market, it doesn't include a hand pump to pull water up a hose and push it through a membrane, nor does it come with a gravity setup to force dirty water through. It comes with a flimsy squeeze bottle that you are can dip into a puddle, screw the filter on, and then push to get clean water out the other side. This doesn't work so well in practice - I rarely find a convenient puddle deep enough to dip the squeeze bottle in to fill and squeezing a half liter at a time (the included bottle size) can be very time consuming. So I decided to play around to make a DIY gravity option.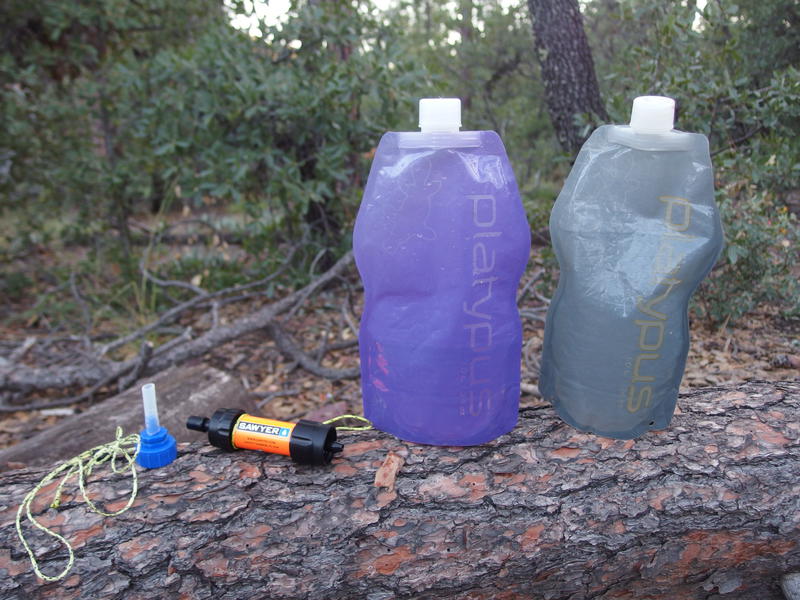 The first thing I switched out was my water containers. Platypus has some great one liter plastic bottles that weigh about an ounce apiece - more reasonable than a Nalgene or Camelbak bladder. Plus they come in different colors, so I can use a gray bottle for dirty and blue/purple/clear for clean water. They are more rigid than the Sawyer squeeze bottles, which makes them easier to dip to fill, though I also bring along a homemade collapsible cup to scoop water up. The cup is just a standard plastic water bottle cut in half - they crumple up wonderfully flat.
These bottles helped with scooping water up and containing, and they also screw on to the filter, so now I can fill one with dirty and squeeze it into another one. I still wanted to use gravity, though. In the end all I had to do was add three more components to my two bottles-and-filter system: a nozzle to screw onto the clean bottle, cordage to keep the clean bottle attached, and cordage to hang the whole thing up.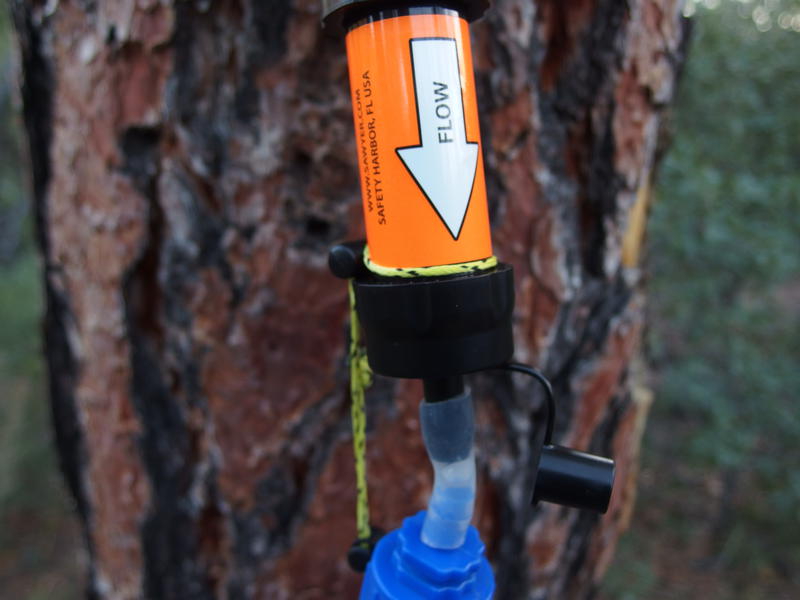 First, the nozzle. This solution I rather like, because it doubles up as a backflush. I use an inline adapter that can screw onto the clean bottle, with an inch or so of flexible hose on the end, and this hose can plug right in to the clean end of the Sawyer Mini. This creates an end-to-end seal with the dirty water bottle, with the filter flow pointing straight to the clean end. Also, for backflush, all I have to do is attach the clean bottle with clean water to the output end of the filter and squeeze - no more carrying along the included syringe.
This connection isn't strong enough to support a full liter of water, which is why I have the cordage connection. It's a simple loop with one end around the filter and the other around the base of the adapter. I use some mini cord locks (from Z-Packs) to keep these tight without monkeying too much with knots.
The last piece is the cordage hanging the whole thing up. Platypus bags have a thick base to be self-standing, so I just punched some holes through for the cord. I also chose to tie a loop and thread the whole thing through, allowing me to loop the ends easily. One more cord lock here as a base for the hold and I can hang this from a long branch, and the whole thing can be pulled out for storage if I don't want it dangling in between filters.
All together this solution costs around forty bucks (depending on what sales you can hit), has two liters of capacity, weighs five ounces (dry), doubles for both squeeze and gravity setups, and includes a simple backflush. The gravity setup will filter a liter in about ten minutes, which could be sped up with using a longer connection hose. It's a lot of parts and, because there is an end-to-end connection through the whole thing, I do have to be careful about making sure the dirty bottle on bottom doesn't have air in it or the pressure below will cancel out the gravity above. For the versatility and the weight, though, I'll happily deal with the shortcomings.