The night air felt thick, an inky black pool that my lungs struggled to pull in fast enough. Sweat dripping off my face, fog collecting on my glasses, I stumbled forward a few steps and paused, leaning heavily on my trekking poles, and slowly turned to gaze at the city below. Palm Springs sprawled out below with an unnatural glare against the dark sky. It would be so tempting to turn around already, return to the city lights and my car below, and leave this fever dream for another day.
Cactus to Clouds is a ridiculous hike. San Jacinto rises more than 10,000' above the desert town of Palm Springs and there is a 14-mile trail that climbs that distance. The first 9 miles are the real test, an unmaintained single track that gains 8000', with no water, support, or bail options outside of "just turn around". After that there is a reprieve, a maintained park near the summit with a ranger station, water, and even a tram, and only 5 miles and a few thousand feet left to reach the summit. That tram is a godsend - few people want to subject their knees to that much downhill jarring - and makes the return trip to Palm Spring very easy.
I had driven from Phoenix yesterday and spent the night camping near Joshua Tree, another area I have yet to explore, all to secure a 2:30 AM start. Its a fine balance, trying to beat the summer heat and not cheat my body of too much rest before a hike of this magnitude. My hope was to reach the summit before noon and be back home by the evening. The weather was cooperating, with tolerable temperatures for a summer ascent, although the air was humid and thick, which my desert lungs did not appreciate. I was also gambling with my water, only carrying 4L, which might be enough to reach that ranger station and the water source if I kept decent momentum.
Tearing my gaze away from the city below I turned back and continued the climb, one tired foot in front of the other. The full moon had already dropped behind the mountain and I was left in the shadows, my headlamp giving me a dim, flat view of my surroundings. Slowly the miles ticked by, too slowly, and the elevation continued to pass. A few more hours and the sky lightened, warning of the heat to come on this east-facing trail. Palm Springs seemed impossibly far below me while the heights above hadn't moved an inch closer.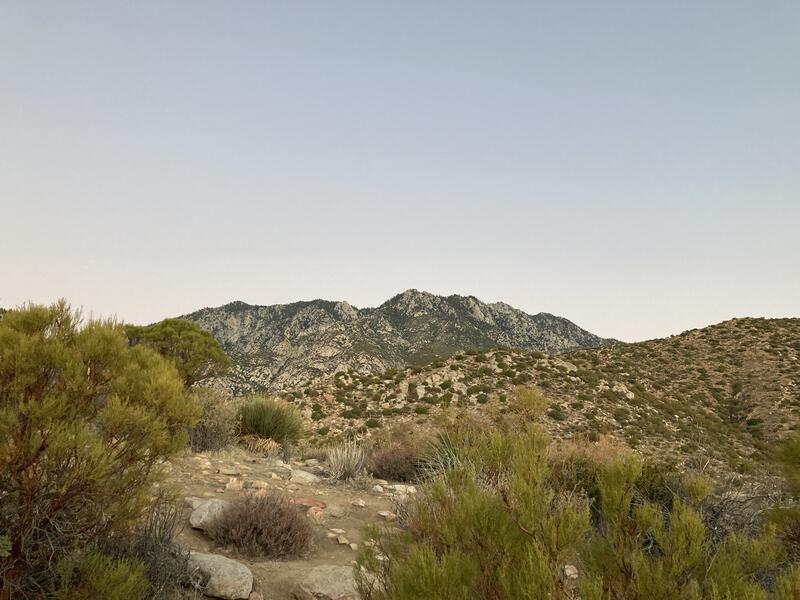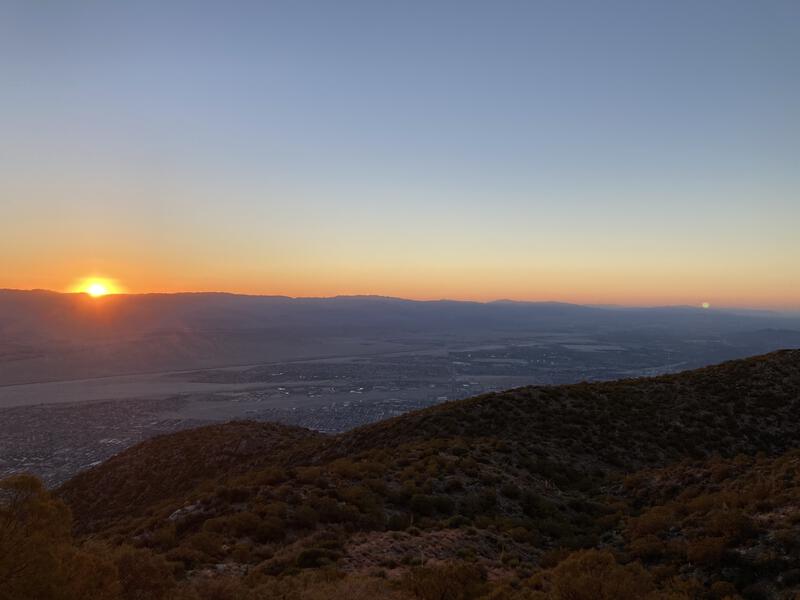 Taking a page from my Rim-to-Rim-to-Rim last year, I planned to stop once an hour to rehydrate, refuel, and rest. That was easy to do in the Grand Canyon, especially on the flat sections, when I could estimate traveling three miles and taking a ten-minute break within an hour. The steepness of this trail laughed at such estimates, and I was lucky if I covered a mile in 40 minutes. I sipped at my water during my breaks, conserving it as my schedule began to slip, and tried to enjoy the scenery instead of worrying about the hike.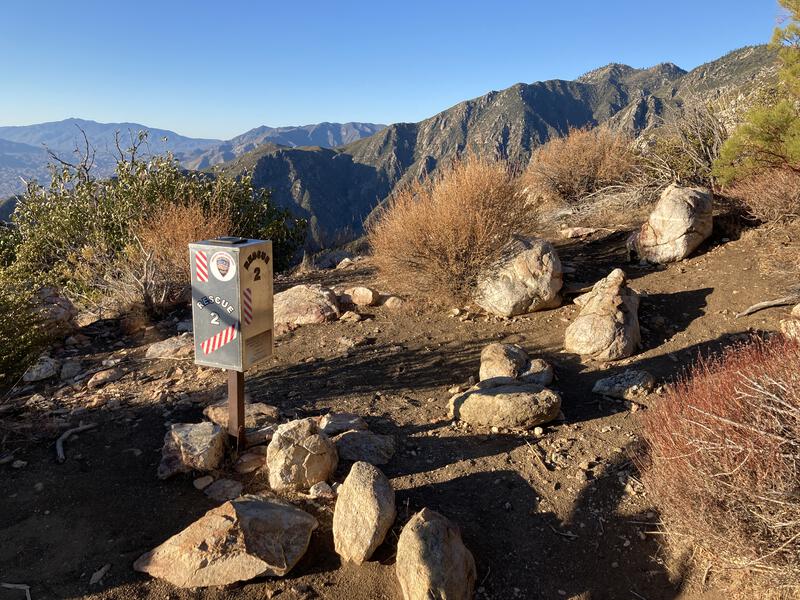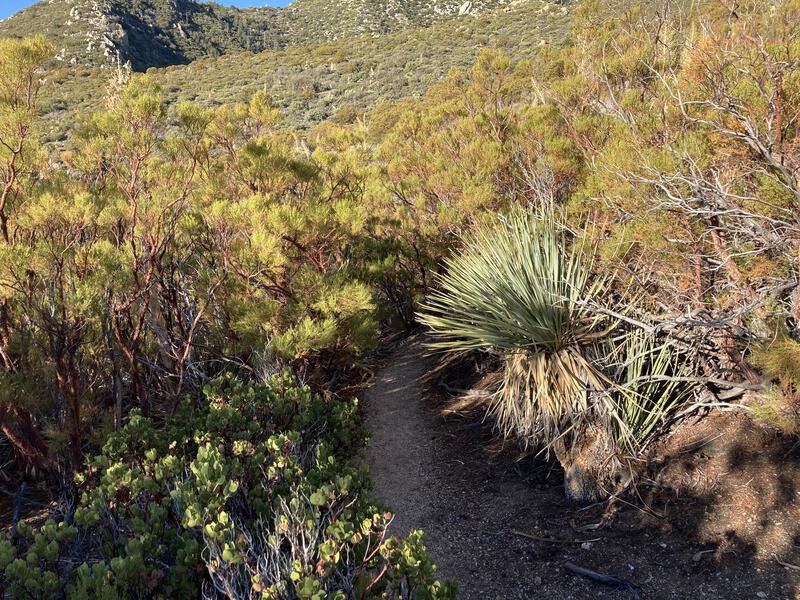 Desert rocks turned into shrubs, which turned into high desert scrub and trees. I enjoyed these transitions, all the more because all of the vegetation was similar yet different than what I was used to. The manzanita was bushier, agaves more fragile, and tree branches wispier. Same types of plants, yet different. My knowledge of California desert is sparse at best, so I think this was all Mojave, though it may also be Sonoran with a little bit of variety from the different elevations / zones out here.
Morning sun didn't get warm until I was nearing the pine trees, and the shade quickly enveloped me in a cool, welcome embrace. These were also different than the Ponderosas I am familiar with, with enormous cones the size of my head scattered across the ground. Unfortunately, the trail got more challenging under the pines, steeper and less defined, and I struggled up the last mile of loose, sandy, needle-covered ground, cursing mightily along the way.
My legs were cramping and trembling when I suddenly broke over the edge and saw the most bizarre sight - flat, level ground. More like a newborn foal than a confident mare, I bumbled over to a rock and plopped down, stretching out and polishing off the remnants of my water. A family walked on a nearby trail, the kids milling about, and my sweat-soaked gear must have looked as much out of place as their jeans and sandals. I had reached the top, passed the crux of the trail, and was halfway done with the total hike. Now it was time to refill for the final push.
A few minutes later and I was at the busy ranger station. Everyone visiting San Jacinto has to register here, whether they took the long way (like me), the longer way (PCT), or the smart way (tram). I signed in and refilled my water in the back, topping off all of my bottles and my stomach. There was a soft breeze filtering through the tall pines and the shade felt amazing. Once my shirt dried I changed into long sleeves (sun protection), shouldered my pack, and continued west, anxious to reach the summit.
There's a small maze of trails and campsites in the valley up here, and a lot of options for day hikes. My kids would love this area, this little sky island paradise, though they are a long way from coming up the way I did. Maybe a day trip to Palm Springs and a ride up the tram. Shoot, maybe I should look at camping up here with them, assuming there's no weirdness with reserving camping permits from a different state.
Round Valley passed by, then the spur to Tamarack Valley camp, and then an unwelcome uphill push to Wellman Divide. My legs were thrashed. When I stumbled up to Wellman I was greeted with views that were alien and incredible, mountains I couldn't name stretching to the south, with sharp rock outcroppings and dizzying chasms highlighting the grandeur of this range. Arizona has some cool terrain, sure, but these mountains blew those away handily.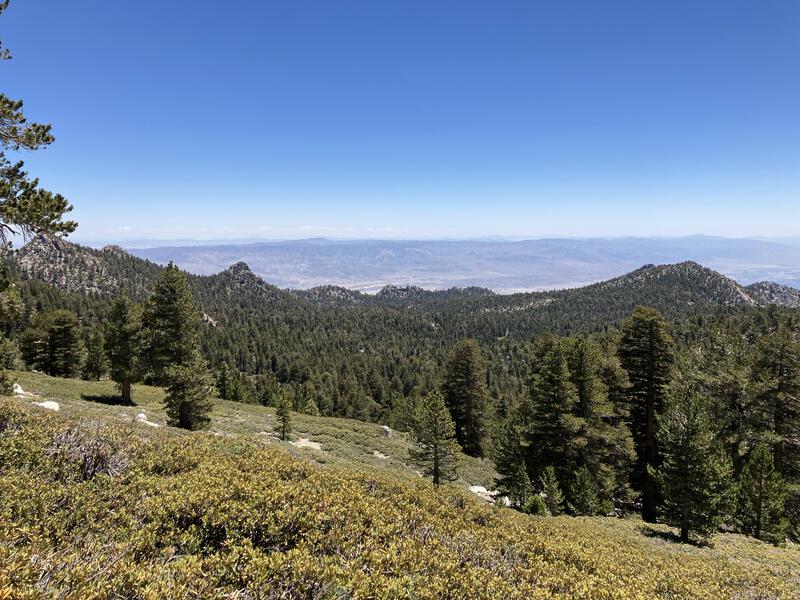 Turning north at the trail junction, the trail slowly crawled up a slope and I followed slower. There was an interesting mix of pines and shrubs that were distinctly alpine - first time I've hiked in an area like this. I've always pictured the hot deserts below as the inhospitable areas and the cooler highlands as a more gentle alternative, yet the sandy soil and harsh rocks seemed quite challenging. Maybe life is always hard, and you have to find the right environment and strategy for you to survive.
Eventually the trail traversed all the way to the northern side of Tamarack Valley and the shoulder of Miller Peak, then it turned sharply south. Elevation was really getting to me. Think I've been above 10,000' once in my life? The hike, elevation, and steady uphill grade all grated against my nerves, and I was thankful I was hiking alone, because there I'm sure I would have been a real pain to deal with. Another trail junction showed up, Little Round Valley and Deer Springs and Seven Pines and more new names somewhere to the west. I wasn't seeing any of them today. It was finally time for the final summit push.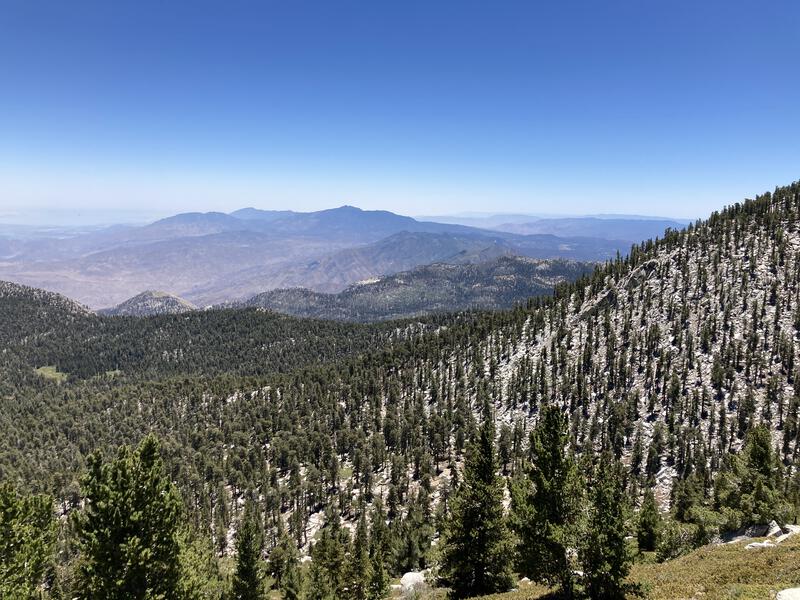 Five hundred yards. There were lazy switchbacks, a sweet cabin, and then a chopper flying low that buffeted the ground with aggressive swoops. The trail got confusing and I did my best to stay on it and avoid the fragile growth. There was a lot of people wandering about, and I wondered how many of them were on dayhikes from the tram versus backpackers. None of them looked like they had the full hike from Palm Springs. The summit itself was a pile of large boulders with views that... frankly, did not even look real. My mind could not comprehend the scale, could not understand just how high up I was and that my car was parked somewhere all the way down there. Somehow I fell into a conversation with a man dressed in thick camo gear with very different political views that I quickly excused myself from. It was a weird, surreal experience all together, and a little anticlimatic, and once my legs were done cramping I was ready to leave.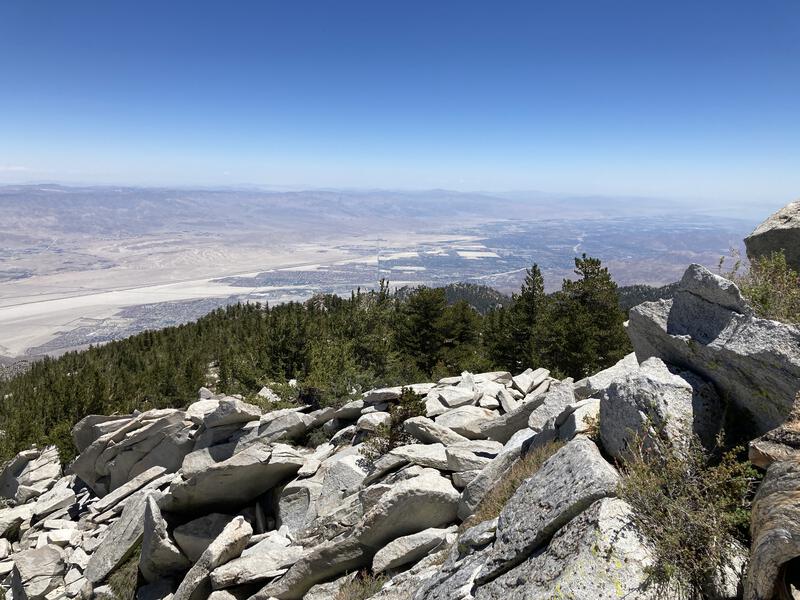 The hike back felt tedious. The early afternoon sun was hot, even under the tall pines, and while the trail was generally downhill, there were a few brief climbs that crushed me. More people were on the trails now, likely tourists who had slept in and wanted to escape the heat of Palm Springs for a quick hike. I didn't stop, already thinking about the drive home and where to stop for food, wondering idly how many recovery days it would take for my legs to feel normal again. The trails were still pleasant and the views back at the peak had a new glow, and I was ready to be done.
Tram was busy, although I was able to quickly secure a ticket and had mere minutes to reconfigure my gear before the ride down. And the ride was quite illuminating, giving me a new perspective on just how huge this mountain is and how crazy my hike was. While tagging the peak is necessary for most people, I could easily imagine living here, getting a season pass for the tram, and just hiking up to the tram and riding back down as a regular (if brutal) workout.
Things got annoying at the bottom. Cell reception, which I had for most of the day, was barely existent at the base, and I had to walk a half-mile from the tram station in order to secure enough of a signal to book a ride. I had contemplated walking from here to my car, but it was several miles of hot desert hiking, some of which without a sidewalk or trail, and that just seemed like a few hours worth skipping. Maybe I'll do a bike next time. Because, as ridiculous and challenging as this day was, this is an adventure worth repeating.