The trees grew thick and undergrowth tangled along my confused route. I had come a long way from Wolf Lake Road - along clear and exposed rock bluffs, several two-tracks, and through managed hardwoods - and this last stretch on the ridge was the worst so far. There was supposed to be some open views nearby, looking down on the small town of Diorite and the nearby forest, and everything around me was thick brown and green nastiness. When I finally burst out onto a rock ledge I stopped and rested, surveying the woods below, thankful to have real lines of sight.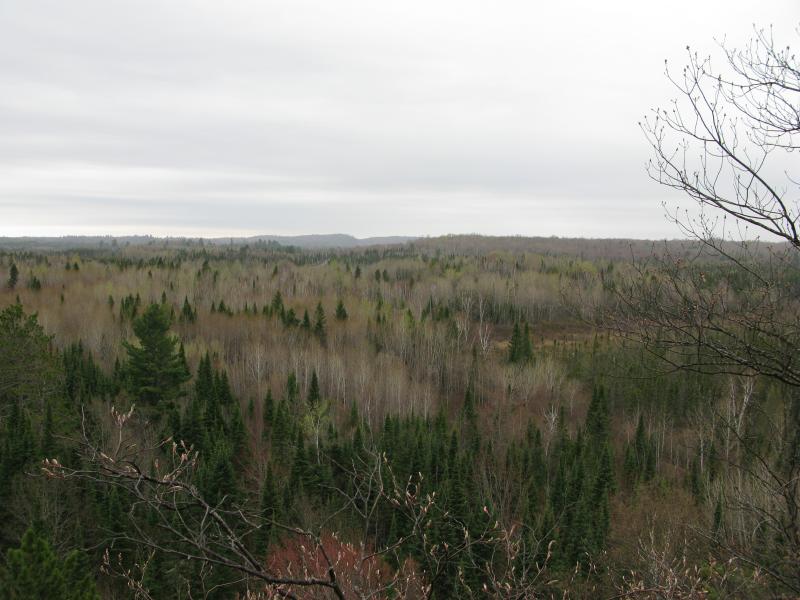 The first part of this hike had been a long and tough trek eastwards along a ridge overlooking plains and swamps. There was still a bit more distance to make east before I started the return trip. I was hoping to find a two-track down the slope, one that would lead me to an old gold mine. Assuming that there would be trails up here, trails laid by the locals of Diorite up the bluffs for either biking or snowshoes, I had wandered a bit up here like a dog searching for a scent. There were no trails, nothing yet, and even the track had evaded me so far.
Turning away from the first view I started making my way down the slope slowly. I was a bit hesitant, hoping for a good view out over the town. When the two-track did show up, too narrow for most vehicles, I got the break I was looking for. Just on the other side of the track were huge pines, needle-covered ground, and open sky over Diorite.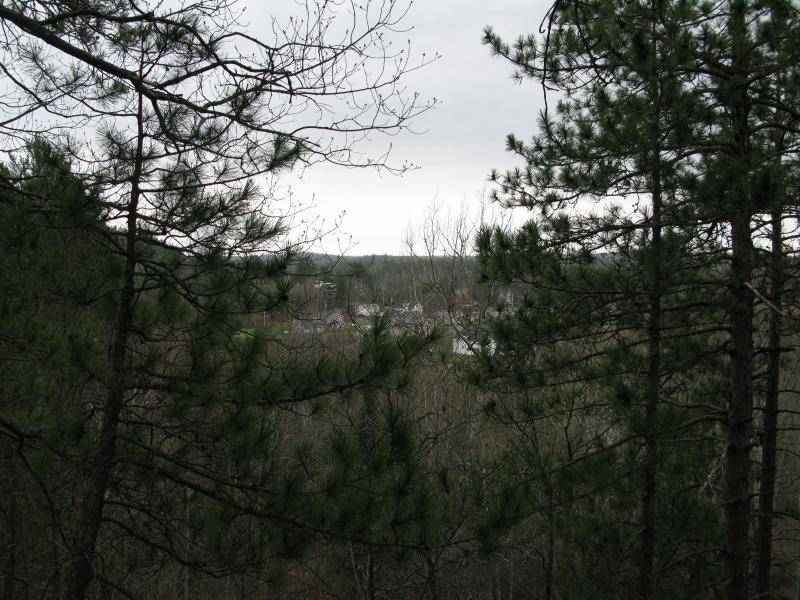 It wasn't a clear view but it was good enough for me. Satisfied and eager to get on level ground I circled back to the track. It led down on an angle to a nice dirt road. To the left was a private property sign and to the right was straggly trees. I headed right and glanced a few times back up the bluff as a sudden rain came and went.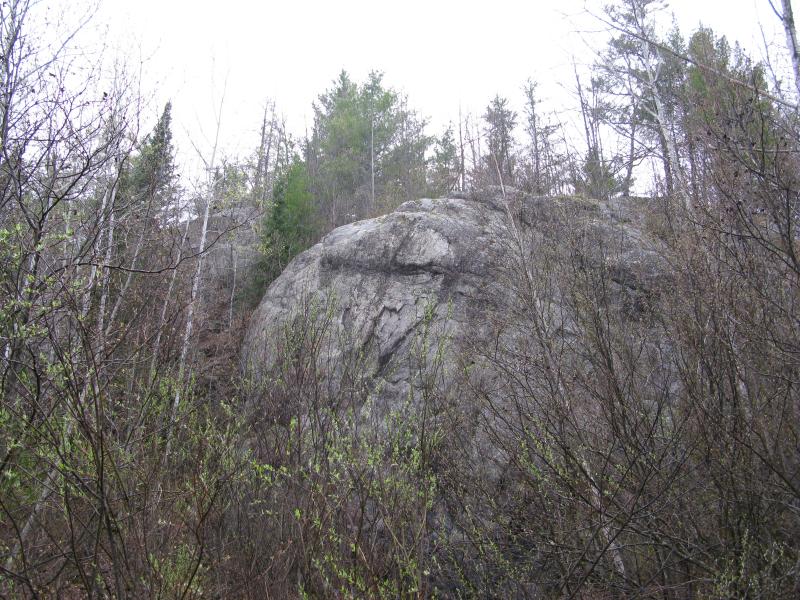 I wasn't completely sure of my location. There is an old road that looped from the bluffs over to the mine, avoiding the town altogether, and I hoped that was the one I was on. This old road has been completely wiped out by time, though. Private property signs started to spring up on the track I followed, keeping me from poking around the woods, and I passed a tiny cabin with the lights on. I had little doubt that I was trespassing and I walked quickly, hoping to pass undetected.
The end of the private drive came soon enough at a locked gate. There was at least six interlocked padlocks keeping it closed, a clever way to allow at least six different landowners access to this area. I hopped over the gate, waving shyly at two men loading a truck at a nearby house, and turned right down the main street of Diorite. While I wasn't in the middle of town I was close enough to the residential section to feel sufficiently awkward.
County Road CKH cropped up to give me an easy exit from Main Road. This road is more a driveway than anything, only a single house along its length before a small loop at the end. Again feeling intrusive I walked past the large house, the residents obviously at home, and continued past on the unimproved road beyond the loop. After spending so many hours wandering through the woods, seemingly far from civilization and people, it felt weird to be walking past houses in my tattered jacket and soaked jeans.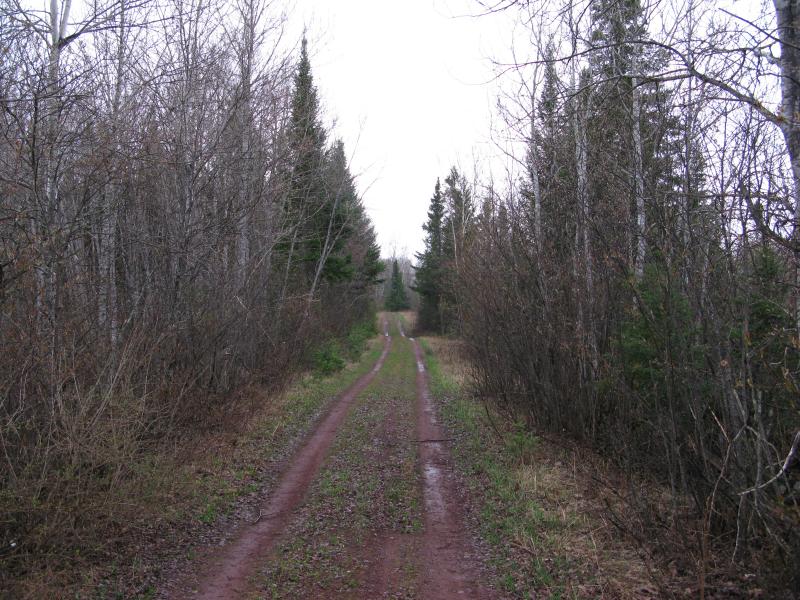 The unimproved road only had a single downed tree to work around. There were several small rocky rises to the right, making me wonder if I would have to climb one and look around to find the mine remains and then the wall showed up. Crumbling and stained bricks poorly hidden by the pine forest pointed me to the American Mine, more obvious than any sign or spray paint would have.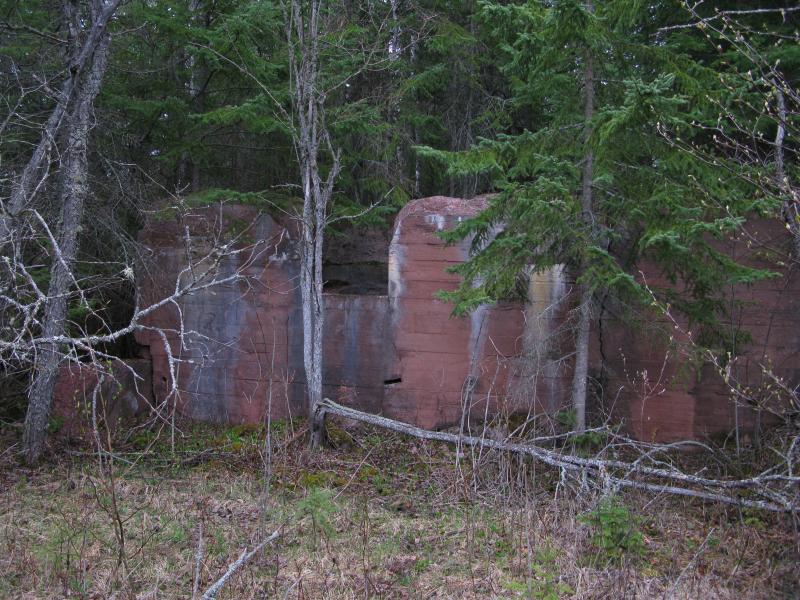 I'm pretty bad at analyzing the true purpose of the different remains at these old spots. I let my imagination take a guess at the first few areas. When I climbed over the first wall, walking down an short hallway, and found an interesting octogonal room with one door, I figured that this would be the pac-man room. Or maybe the time-out room. It was probably an old chimney, or smelting area for processing ore, but I liked the idea of a time-out room for disgruntled miners better. A time-out gaming room.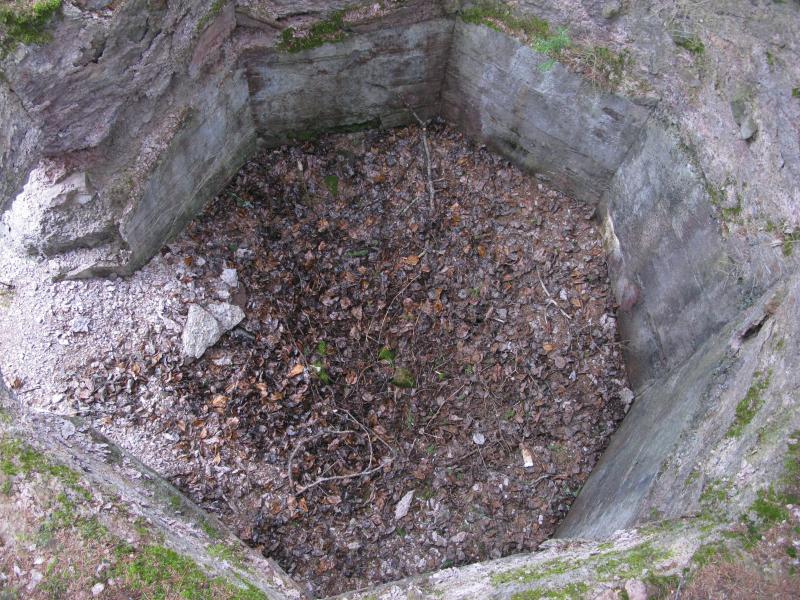 There is a surprising amount of standing ruins here. I think this mine predates most of the copper mining in the Keweenaw (though I wouldn't bet on that). Narrow hallways of cement, outer walls of bricks, mossy troughs in the ground - there was a lot to check out. Multiple buildings once stood here in close proximity. For some reason I thought that the Ropes, further to the northeast, was the only profitable gold mine in the area, but judging by the scale this one had to have had some significant backing. They might have even done some of the initial processing of the ore here.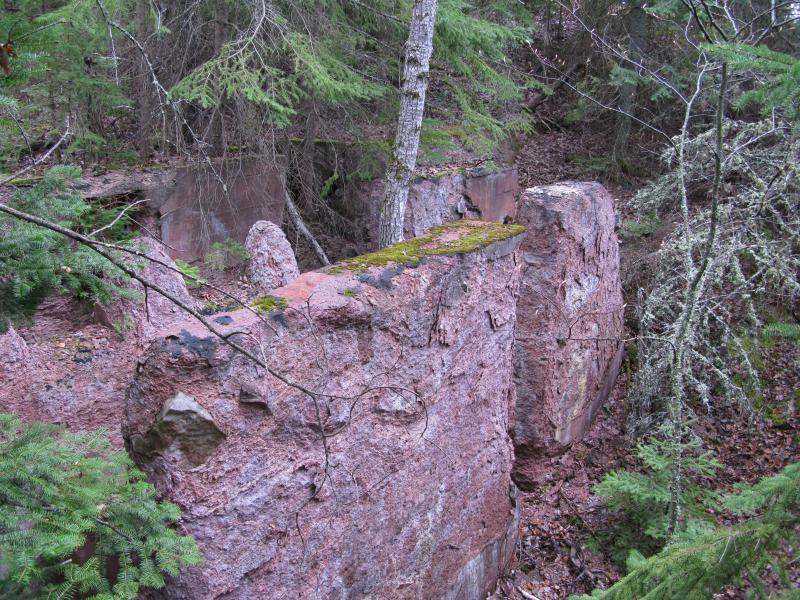 With a better idea of the layout here I started looking for the shaft. Some of the larger foundations, walls of solid cement, seemed lined up to an open spot ahead. It was fenced off, a rectangle of chain link and barbed wire and no gate, and I could just barely make out the mossy line of a cement cap through the brush. A lot of care had been taken to keep people away, which seemed overkill with the lack of trails or sign of visitors to this area, and I assumed that the cap was not terribly secure. I stayed on the safe side of the fence.
I had found the ruins and the shaft and no tailings. Where were the piles of poor rock? I continued beyond the shaft, away from the foundations, and stumbled upon a real clearing with short grass (as opposed to the tangles of brush around the capped shaft). Only a few small piles of fine rock remained. My guess is that more poor rock was here once, perhaps towering piles, and that they had been carted away for either roads or refined processing.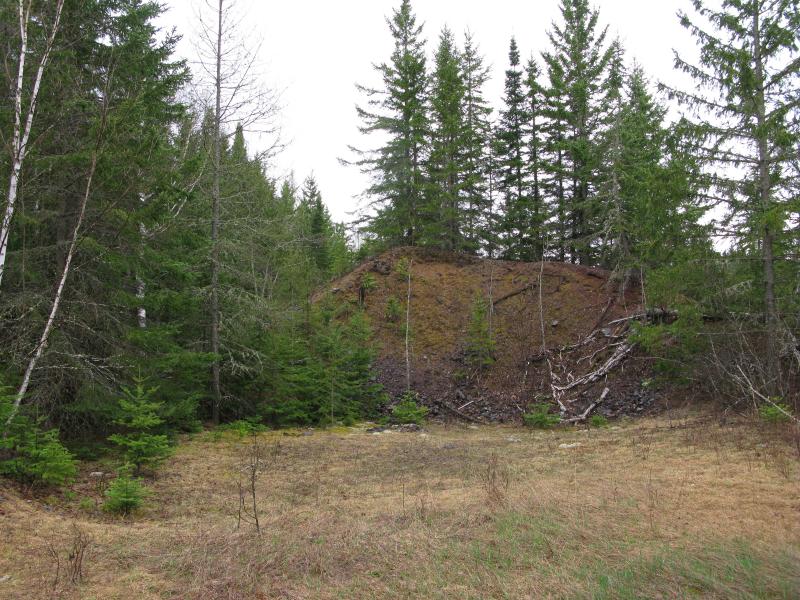 There was the dark, sinister pool there too. The mine lies on the east shore close enough to raise questions. Was the pool there to help with the processing? Was it created by the miners or was it always here? Did it form by the collapse of the mine below, either forcing an early closing of the mine or sealing its fate years after the cap was placed? Whatever the pool's origins were it was a hinderence to my hike, forcing me to retrace my steps through the mine's ruins, blocking a westward return to my car.
My plan for the return trip was fairly simple. A railroad track ran back to Wolf Lake Road, through the swamps and sandy plains, hitting the road about a half mile south of my parked car. All I had to do was hop over from the ruins of the American Mine over to the tracks. There was even an ATV track that paralleled the tracks, below some powerlines, so I wouldn't have to walk on the rails (I assume that walking the rails is one of those best-to-avoid activities). The plan was overly optimistic. Heavy spring melt combined with the normally-wet land to flood out everything around the tracks. Even after pacing back and forth along the tracks, getting my boots soaked along the south shore of the dark pool on the way, there was no way. The ATV track was completely flooded and thirty feet of rushing dark water stood between me and the railroad line. I would have to backtrack to the main road of Diorite.
Disappointed I turned back to County Road CKH, awkwardly passing the large white house for the second house and following the shoulder of Main Street (which eventually turns into Diorite Road before meeting 41). As soon as the railroad tracks crossed the road I turned and followed them, skipping slightly from tie to tie, boots grinding loudly on the grade. Years had taken their toll on the tracks, the ties split and bent awkwardly. Someone had recently inspected the tracks and marked up problem areas with bright spray paint. I wonder if these tracks had been out of commission so far this year, if the winter had been too harsh on them and they needed repair work. There was no sign that a train had gone over them in a while, no freshly overturned rocks or anything, though they don't tend to leave much in their passing.
I walked and walked and walked. After an early bend and small bridge Diorite Road fell out of sight behind me and I was on a long straight leg with the end in the distant west. My steps began to adjust to the different rhythm, feet placed flat on the uncertain ground instead of heel-toe, in an attempt to minimize the grinding and rolling rocks below or the trip over raised ties. As I walked I looked around, surprised to see the ATV trail submerged feet deep in dark water, wondering if it ever dries out enough for summer use.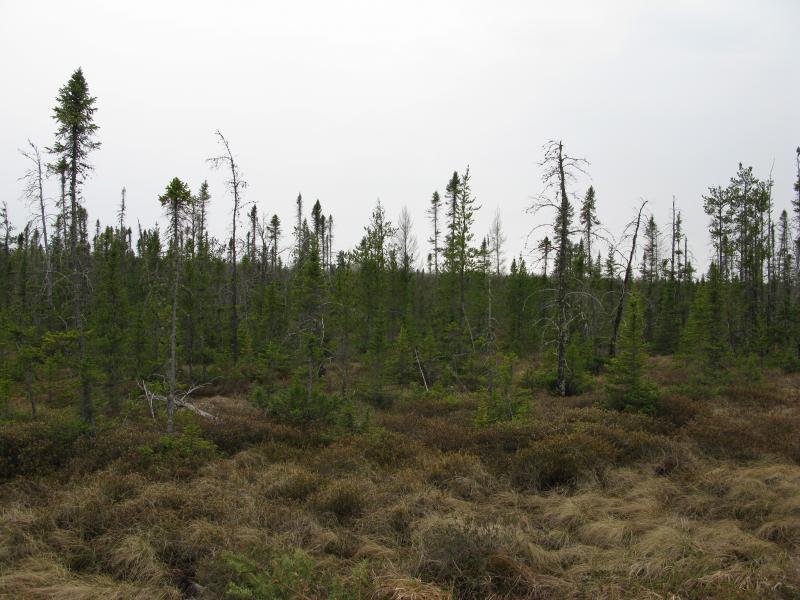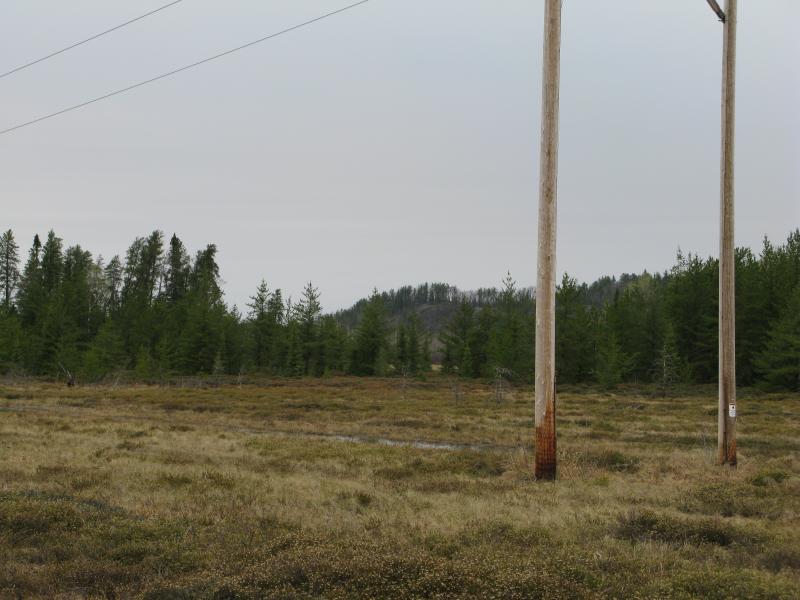 After what seemed like hours the open, wet swamps began to give way to dry sandy pines. The ATV trail to my right poked out of the water and ran normally, winding between the powerline posts. I checked my bearings and noticed that there was an old road that ran up through the pines, cutting a straight line back to my car. I turned at a suspect entry point and headed off the railroad tracks, north into a pine forest.
My legs protested at the change in step. I tried to stretch into a normal stroll. It was surprisingly difficult. If I concentrated I could do it but as soon as my attention wandered to my surroundings my feet switched back, plopping flat in a harsh manner. Distracted by how quickly the railroad grade had retrained my step I almost didn't notice that my track had ended suddenly at a small dumping spot. This wasn't the road that would lead me back to my car. I would have to bushwhack through an immature pine forest.
Unwilling to turn around and head back to the tracks and reward my legs for their stubborn rhythm I pushed through the trees and over the lumpy, mossy ground, trying my best to stick to a northern route. With no sun and no decent landmarks my route curled wastefully, cutting from one almost-path to another. Eventually I stumbled upon a familiar sandy road, one that I had been on years before, and made my way up to a sand pit. One last look up the bluffs and it was done. I had (finally) conquered these bluffs and hiked from Wolf Lake Road to Diorite and back. As I half-plopped, half-walked back to my car I thought back to all my previous attempts, through snow and sleet, and how long and difficult the hike ended up being, and sincerely hoped that a return trip would not be in my future.