Sometimes things go wrong. I have been very fortunate over the years considering the number of adventures and idiotic ideas I've had, but sometimes bad things can and do happen. Among the problems that have cropped up during hikes I've had to deal with car problems, injuries, exhaustion, and exposure. This is a story about one of those bad things, a series of poor decisions and worsening circumstances that led to a night time rescue on the Herman-Nestoria swamps.
The day started like just another waterfall adventure. Katie, Faith, Cory and I had woken up before the sunrise to hit up some spots before hunting season started. Our route was ambitious in scale, stretching from hiking along the Salmon Trout River to visiting Dee Lundeen Falls down by Michigamme. We were heading back to Houghton when I decided that we should make one last stop. There were still a few hours of daylight left and we were driving near the familiar town of Herman, MI.
Upper Sturgeon Falls was nothing but a rumor I had been chasing all summer. No photos or records exist of this waterfall aside from a tiny mark on older topographic maps. I had tried finding it by bushwhacking in from the west, north, and south with no luck. While the area was rugged the suspect location was not far from the logging roads or even the Herman-Nestoria Cutoff. Stubbornly I had tried walking straight through the woods on my previous attempts. The thick woods and hilly ground is far too difficult to navigate without a GPS unit. There was an easier approach that I had avoided before; walk along the Tama-Siding Line until it crossed Sturgeon River, than follow the river upstream about a mile. That was the plan for today.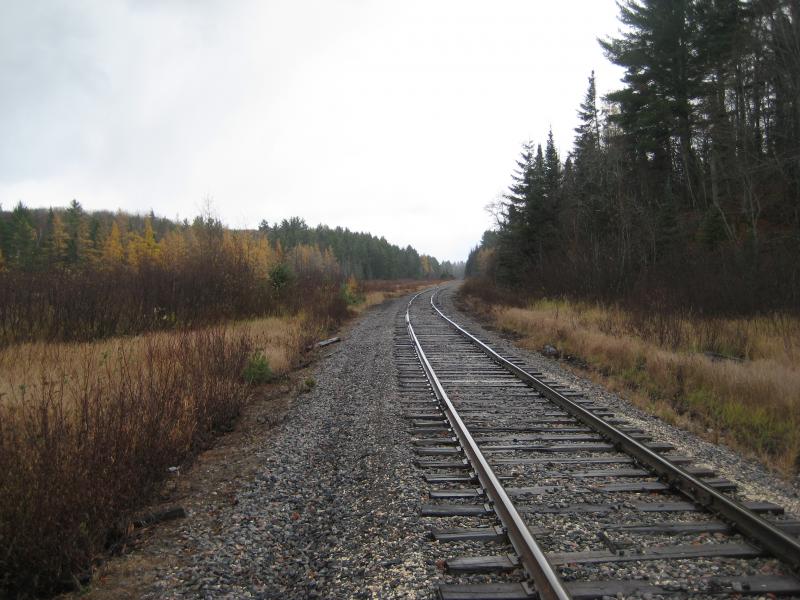 We parked on the Tama-Siding Road just off of Celotex right where it's gated off. Katie decided to hang back, so Faith, Cory, and I took Logan and set off beyond the gate. Katie was worried about us being on railroad tracks so we decided to follow the two-track past the gate. When it started to fork we picked our path randomly. I had done minimal research on this area beyond the railroad approach but knew that the waterfall was somewhere to the southeast, so we wandered vaguely south.
After walking for awhile we decided to cut off the road. The woods thickened quickly below the road. Worried about finding our way back Cory and I decided to leave our extra clothes as trail markers. It was still relatively warm out and none of us thought the waterfall was any more than a few minutes from the road. Cory left a light jacket a short distance from the road and we hacked our way through a thick pine forest, crawling at times on the soft mossy floor. We emerged from the forest to some rolling hills. I had expected the Sturgeon River by now, but figured we were still close enough to the road not to be worried.
More thick forest greeted us beyond the rolling hills. This forest was older than the first one and clawed at us from all sides. We weaved and ducked through, leaving both my jacket and a sweater behind to mark our path. After spending over a half hour in these woods I was tempted to have suggest heading back when we finally bumped into a wide, open pond. Finally we were on Sturgeon River… or, at least I thought we were.
We headed right along towards the pond's outflow, a place I assumed a waterfall could easily crop up. This route was difficult to follow, with hard, leafless brush lining the sides of the water. The outflow was nothing but a trickle through a natural dam. Disappointed by both the lack of a waterfall and significant water flow we attempted to backtrack through the darkening woods, giving up on finding anything this evening.
I did not find either one of my clothing markers but we did make it out to the rolling hills. They seemed similar, so I shrugged off the ominous sign of losing my clothes/markers and continued into the forest beyond the hills. While the darkness masked most features of these trees it was obvious that we were not in the same young pine forest. Still, we pushed our way through stubbornly, growing fearful of the coming night. When we broke through the clinging branches we did not find ourselves at the base of our original road or near Cory's jacket. A deep, large pool of water stretched before us, shattering our hopes for an easy return.
Panic began to set in. Light was all but gone from the sky, leaving our surroundings outlined in dull grey patterns. I could tell that this was a different creek than the first one we had found, a realization that did little to comfort us. Refusing to give up yet I decided that we had to lean on three assumptions at this time. This had to be Sturgeon River, as there was no other sources of water in the area. The railroad tracks must be nearby, because the road we followed in seemed to roughly parallel the tracks in south. We were on the north side of the river since we didn't cross any creeks on our wanderings. Thus, if we headed to the right (west) we would soon bump into the Tama-Siding Line and an easy way back to the car.
I was wrong on all three counts. We were actually on one of the small tributaries feeding the Sturgeon River. We were well over three miles from the railroad tracks thanks to our random choices on the road forks. Somehow (and I still don't understand how) we were actually on the south side of this tributary. Following the water to the right would only led us east into the wild swamps of the Herman Nestoria, a wild that few roads and fewer people ventured.
Starting to worry about the cooling temperatures Faith and Cory agreed to this plan. We followed the water, stumbling over holes and smacking into branches in the gloom. Scratched, bruised, and worn out we gave up after less than a half mile. We were stuck out here for the night. I called Katie to let her know. I wasn't planning on calling for help, figuring we could last a single night, but she frantically convinced me to call the police. Somehow the three of us found a flat rock big enough for two to sit on and I called up the dispatchers, explaining where we were at and what the situation us. They used geolocation and decided to search near the Tioga area first, about fifteen miles downstream. I curled up at the base of the rock with Logan and we rested fitfully.
By midnight the search party had given up at Tioga and tracked down Katie, who was parked off of Celotex. I still thought we were on the railroad tracks so they drove up and down with horns and lights on ATVs trying to get our attention. We saw and heard nothing. Next they headed down the gated road looking for any sign of us, sending officers up and down any creek they bumped into. Every once in a while they called the cell phone to check up on us or stop and talk to Katie, but the chance of them finding us was not looking promising.
The cold sleet/rain mix started up during the early morning hours. Faith had a light jacket on but Cory and I were down to thin shirts, mine only a short-sleeve. We were all miserable. Logan had curled up into a tight ball, occasionally stirring slightly as unseen creatures of the night moved around us. Cory and I began to see meaningless things in the cold, wet dark. Spending the night in the dark wasn't too bad, but the rain and temperature was starting to get to us. Concerned, I laid out a plan to backtrack along the creek. I had given up that the railroad tracks were close or that I knew how to get here. Now I just wanted to get closer to the search teams.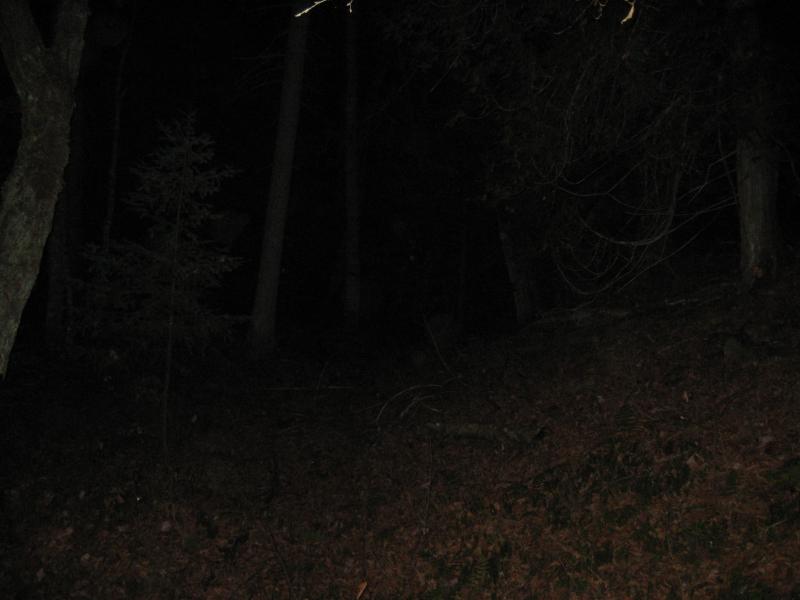 Trembling with cold we set off along the creek. Branches, now wet, stung more on our cold skin and rocks were easier to lose footing on. We did not make it far when we heard a far-off cry. Excited we yelled back and waited. Another call reached us and all of us shouted back, thinking our ordeal was over. It wasn't. The noises stopped and we heard no more. If a searcher was near us they did not know where we were. We turned and headed back to the rock, broken and losing hope of a night rescue.
Hours passed before we heard another person in the woods from the same direction. By now our phones were dead and our sporadic chats with the dispatchers and search team had stopped. The temperatures had continued to drop and I was curled around Logan, trying to keep the two of us warm, while Faith and Cory huddled on the rock above me. Unsure if I was imagining it I had to ask them if they had heard the yell too. All three of us yelled back and decided to make a run for it.
Pushing desperately through the wet undergrowth, ignoring cuts and bruises, we hollered and ran towards the searcher. It was unreal when we finally saw his powerful searchlight cutting the night away. Right away the officer asked what the hell we were doing all the way out here, in some of the worse swamps he had ever been in. None of us cared. We laughed and told him of the possible waterfall, of our bad decisions, of the terrible night. He handed us flashlights and we continued up the creek, holding onto each other's shirts or arms, and stepped out of the swamp into the light of a huge bonfire.
The rest of the night was a dream. We had spent over a ten hours in the cold, wet dark, with temperatures dropping close to freezing. Making it out ourselves without calling for help would have been incredibly difficult. Cory and I were close to, if not suffering from, some level of hypothermia and Faith wasn't feeling all that great either. They took us back to Katie's car and we drove back to Houghton on Monday morning with the sunrise. None of us did anything meaningful that day but sleep, eat, and enjoy the light.
Katie, Cory and I returned to the swamp later that week to search for missing cameras and clothes. We never did find my clothing markers but did retrieve my camera and Cory's shirt. I also came back that weekend with a vengeance, following the railroad tracks in the predawn hours and finding the tiny Upper Sturgeon Falls right before sunrise. If anything, being lost on the Herman-Nestoria swamps strengthened my determination towards hiking. Better research ahead of time would have spared us the entire ordeal. Bad decisions were made that night, but they were decisions based on faulty data, randomly chosen paths and poor time estimation. I'm thankful for the brave souls who found us that night but also that things didn't end worse, and that I was able to learn something valuable without serious injury to either myself or my friends.