For the third camping trip with the kids I decided to take things easy. We drove up towards Payson for the familiar Mogollon Rim and found a small campsite along Forest Road 139, which is a stone's throw from U-Bar Trail. There we met Chris and Kirsty and we all set up our gear. Having three adults and three kids was a game changer - I actually felt relaxed enough to enjoy a few beers around the fire. We had s'mores and stayed up late and slept in and, when we eventually woke up and made breakfast, it was time for the other two adults to head back to Phoenix. I wasn't quite ready to bring the kids home yet, though.
A short distance from our campsite was Fred Haught Cabin and Colonel Devin's Trail, which led down the rim to Washington Park. I parked at the rim and the four of us headed down the rocky trail for a short distance before cutting off onto the tunnel loop. There is a partial tunnel down here, an enthusiastic dream to build a line that ran up the rim and through some tunnels to connect frontier money, a dream that depended on large investments and a powerful engine that was only rumored to exist. The engine was never built and the investments dried up, and only a shallow tunnel remains today to remember the dream.
The kids did a good job heading down the steep trail, hopping down the rocks and listening for snakes. At least I reminded them about the snakes, we never saw any, so I wasn't able to verify their attention on that one. Clouds drifted across the sky and we got sprinkled on a few times, an enjoyable change from the relentless exposure of Phoenix desert hiking. The trail was mostly easy as it dropped, getting mildly tough when the grade evened out. Charlotte wanted to lead on the tough section.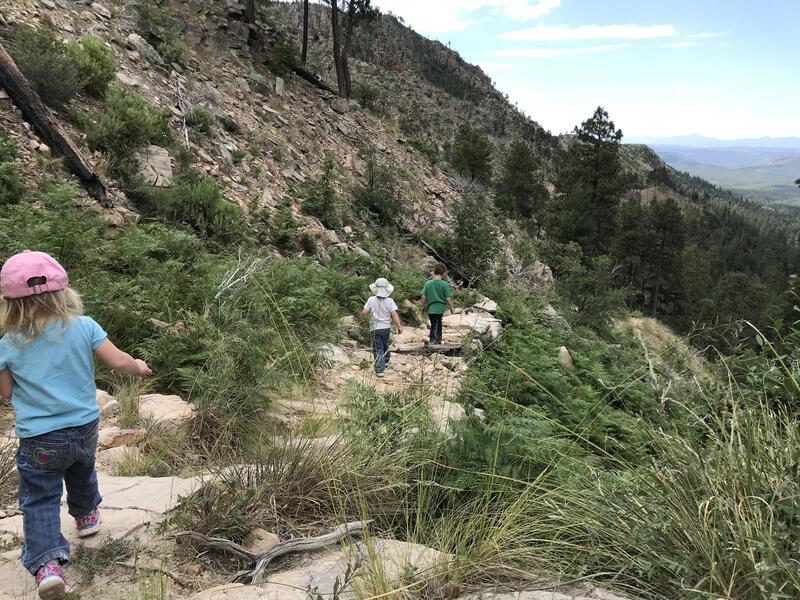 Only the last hundred yards were a struggle, when the trail decided to climb and regain some of our lost elevation over loose dirt and crumbly rock. I had to help some of the short-legs over the bigger steps. One final downed tree scramble and we reached the tunnel. There was an interesting rock structure nearby, maybe a powderhouse or a shelter or maybe an excercise of boredom from previous hikers over the years. The kids ran right past it and headed for the yawning tunnel entrance. Maybe there were excited to get into a cave after our Lava Tube expedition from a few weeks ago.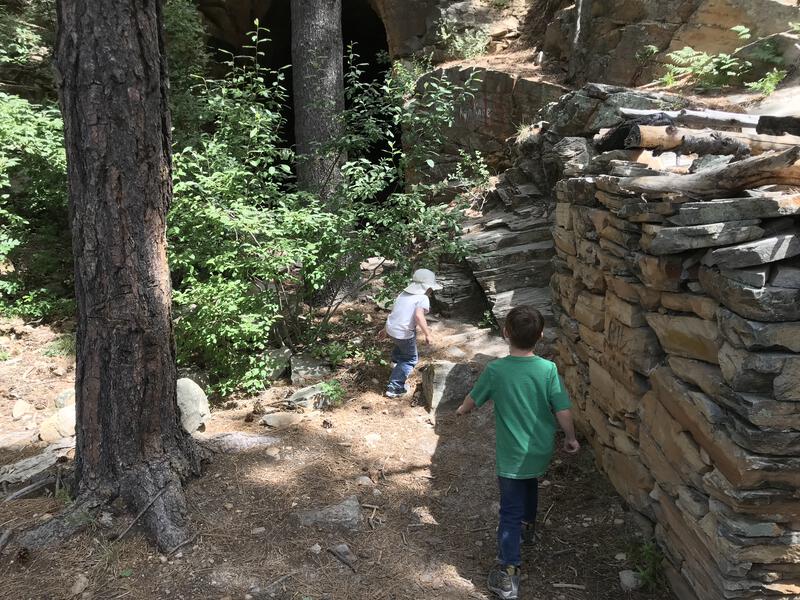 The mouth was huge and it was easy to imagine an old-timey engine fitting in it. It quickly decreased in size, though, and the last few yards were barely tall enough to stand up in. Even considering the rudimentary nature of tools in the twentieth century it was unimpressive. While we were in the tunnel I quizzed the kids about how they thought the cave was built, comparing it to the smooth lava tube walls, and Charlotte came up with an engaging tale of a bear digging his home, which explained the jagged walls (from the claws).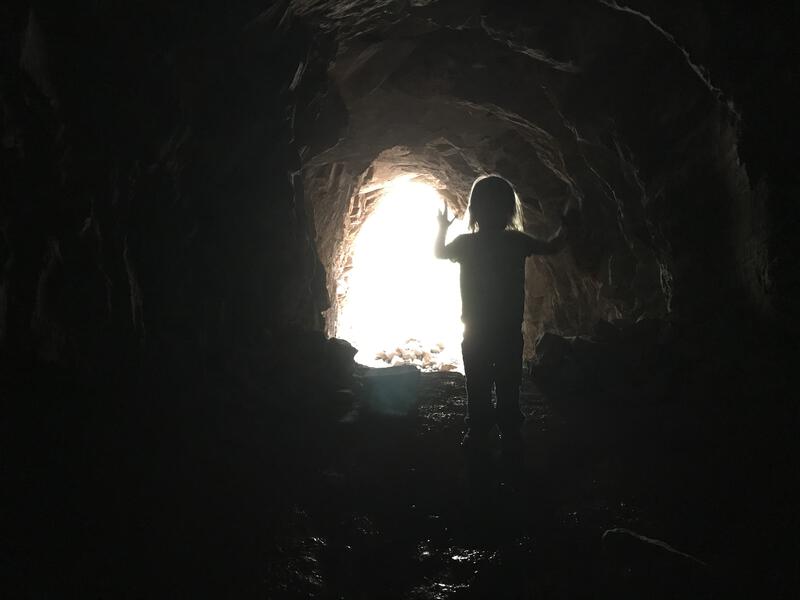 On the way out I made a stupid mistake. I knew that we had gone downhill, then back up, on the way to the cave. So, theoretically, we could just bushwhack straight up and return to the car. I heard of other people doing this - why couldn't the four of us? So we headed up the needle-slick and crumbling hillside, with several sections so steep that I had to carry one kid at a time while the other two sat and waited. Thomas was scared and, after a few close calls, I agreed to backtrack. When we reached the bottom I made sure that we all sat down to talk about risky decisions and why it's smarter to go the long way than the dangerous one (a lesson I still don't adhere to).
By now our quick adventure to the tunnel was turning out to be several hours, and the sun was out in full force. Climbing up the rim was a complete slog. I had to carry Charlotte for the last mile and the boys were exhausted, literally dragging one foot in front of the other. As soon as we reached the top I got ice-cold water for all of us and we sat and relaxed in the shade.
Before leaving we made a quick jump over to Fred Haught Cabin and I broke out some cheese popcorn. That, coupled with more cold water and leftover chocolate bars from last night's s'mores, brought excitement back in the group. While we rested a familiar face, Kyle from HikeAZ, swung over with his dog, and we caught up on recent adventures. When we finally left for home we were all in fine spirits, if a bit sore, and the drive back to Phoenix was almost too lively.