Noah and Charlotte had been asking about a camping trip for a few weeks, and Thomas, while more hesitant, was lured in by the mention of s'mores, so after work we all piled into the Jeep with a full trunk of gear and headed out to Globe. There are some great trailheads in the Eastern Superstitions with multiple hiking options within an hour's drive, which fit exactly what I was looking for. The final few miles to Miles Trailhead is on the border of what I feel comfortable with in my standard, two-wheel drive vehicle, with steep inclines, jagged rocks, and loose gravel on the narrow track, and I was relieved when we rolled in with no issues. There was one couple already set up near the old cabin so I parked next to the corral, which had plenty of room for our tent and a large fire ring.
Setting up our own site was painless. It had been quite a few months since we were out here together, yet the kids remembered exactly how to slide the poles in the grommets and roll out their sleeping bags. Maybe, in a few years or something, they'll be completely self-sufficient, and I can simply pick a spot for them and step back. Once their tent was done I played with my hammock, eventually deciding to hang between the giant tree and the Jeep's rack, while the kids kept busy collecting firewood. Within an hour of arriving we were relaxing around the fire, cooking hot dogs and sharing random stories.
As the night fell we let the fire die down, cooking the promised s'mores over embers and huddling around light sources. Moon wouldn't rise until later, leaving us with our fire and a few flashlights for comfort, and I began prepping everyone for sleep. All three kids still fit in my old tent, though Noah is starting to get too tall to fit sidewise, and we've been talking about trying him in a hammock anyways. For now they bundled into the tent in separate sleeping bags and, when they were tucked in, I drowned the fire, packed food in the Jeep, and stepped into the hammock, shivering in the late-spring evening chill.
Sleep came sporadically. I rarely sleep good outside, even worse when I'm worrying about kids, so I spent most of the night reading a book, drifting between inconsistent naps. Giving up well before the eastern horizon began to define itself I made my own breakfast and tore down the hammock, busying myself with prepping for the day, welcoming each kid as they rose with the waking sky with warm oatmeal, and we left our Jeep before even seeing the sun break over the hills. May not have gotten close to a full night's rest but at least we still started the hike in the cooler morning temperatures.
Haunted Canyon and Paradise Trail make a partial loop, separated by about a mile of the same dirt two-track we drove in on yesterday. Putting the trails together with that road walk and you end up with a pleasant 6.5 miles in the Eastern Superstitions, traveling through pine forests and desert highlands that (luckily) escaped the Woodbury Fire, a rare treat to find out here. I wanted us to complete the road portion early to avoid any late-morning traffic, so maybe my poor sleep and early start worked out for the best.
The forest two-track is a windy, looping thing, with several large switchbacks cut into the hills to avoid a steep grade that would easily wash out during a heavy monsoon, and I had done some research beforehand to plot a shortcut. Instead of winding around a long, narrow, exposed switchback, which had little room for a vehicle and pedestrians, we cut into a wash and made a line to rejoin the road further up. This shortcut began with a use-trail that quickly petered out, leaving me to hack a path forward, frequently helping each kid over tricky obstacles. The shortcut ended up taking a lot more time than I had hoped and, as my shortcuts tend to go, my hiking buddies absolutely hated it.
We all survived and returned to the road, making quick work of the final few hundred yards to Haunted Canyon Trail. This rocky trail was pleasant enough, a gradual climb that started under pine forest that thinned into grasslands. Noah and I hiked together and talked about adventures while Thomas and Charlotte tottered along, each of us enjoying the area in our own way, and, with the complete lack of other hikers out here, I let each kid drift in and out of my direct view. It's nice to give them a little bit of freedom to explore out here on their own terms.
We crested the final climb together and made our way down to Dirt Tank, which looked more to be a large puddle than a dependable source of water, and stopped for a late morning break. I tried to show the kids how to skip rocks and failed. In my defense, I could barely get three skips with the jagged Arizona rocks and tiny, half-mud tank. Maybe I need to get them up to Lake Superior for a proper skipping lesson. We shared a snack and headed out together, finishing the last bit of our trail before joining with Paradise Trail, which had a short, yet brutal, climb before plunging down into the Paradise Canyon.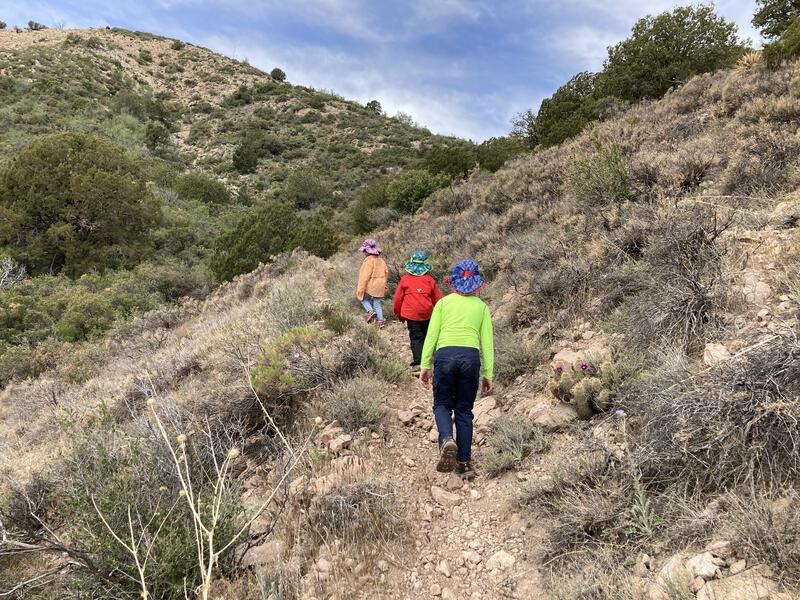 Noon was creeping closer, and with it came rising temperatures. Even with our higher elevation out here the kids felt the heat and were quite vocal about it, and I couldn't blame them, so we stopped a few extra times for water and shade. The trees were thicker on this trail, and there were even a few spots of trickling water, a surprising and welcome find with the ongoing drought. The final mile was wonderfully pleasant and, too soon, we were back on the road and within sight of the Jeep.
This little loop was a great option for us, so close to home yet feeling so removed from the hustle of Phoenix. We will definitely return to this area, and there's even a few longer options that involve Pinto, Rock Creek, and Bull Basin. The drive in is a little dicey for my limited vehicle and the mosquitoes are thick (by Arizona standards, that is), but that probably keeps the traffic down, and I'll happily deal with those for a quiet weekend with the kids.